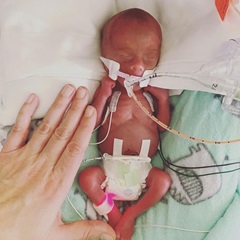 Caring for Our Tiniest Patients
Like so many services at St. Luke's, neonatal intensive care is a lifeline. Every day, our providers care for some of our most vulnerable pediatric patients, helping newborn babies take their first breaths, grow, thrive, and get home to their families.
The generosity of our donors has touched the lives of countless families throughout the communities we serve. Their financial gifts help keep our NICUs staffed with the best providers and filled with state-of-the-art equipment, all of which helps us deliver compassionate, family-centered care.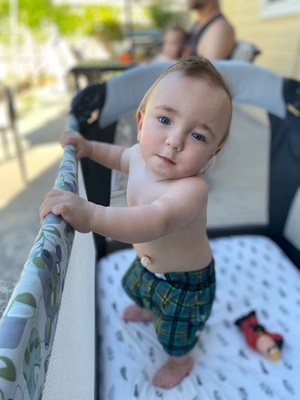 Sutton
A Mother's Story: Christina James on Her Twins' NICU Journey
Shortly after my 43rd birthday, just as we thought our nest was empty, my husband and I found out we were expecting twins. We would begin a new chapter with two baby boys, Sutton and Wade.
From the first ultrasounds, things went wrong—from the boys not growing well to a problem with Sutton's heart, news at every appointment left us feeling discouraged. We weren't giving up on our boys; still, the doctors often cautioned us to be prepared for the worst.
At just over 26 weeks, I started bleeding. We rushed to the hospital. Our OB/GYN, Dr. Monika Fealko, arrived just as the boys' heartrates dropped dangerously low. I was rushed into an emergency C-section. Eleven minutes later, I had two beautiful baby boys. I will be forever grateful to Dr. Fealko!
That was the start of our 179-day NICU journey. Both boys weighed less than two pounds and had multiple obstacles to overcome, from undeveloped lungs to heart defects. But we focused on the fact that they were alive and needed to grow—and grow they did! The grams turned into ounces and before long we had thriving babies weighing 11 and 12 pounds.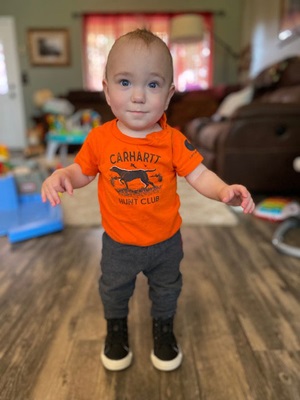 With the help of G-tubes for feeding, Wade came home after 141 days and Sutton after 179 days, two days shy of six months old. I will never forget how I felt finally having them both there with me.
I am so grateful for the best NICU family: the doctors who spent countless hours figuring out the best treatments, the dietitians who helped them grow, the respiratory therapists for saving their lives on multiple occasions, the occupational therapists who made it fun and the nursing assistants who would hold my boys for hours. We can honestly say we miss our NICU family every day.