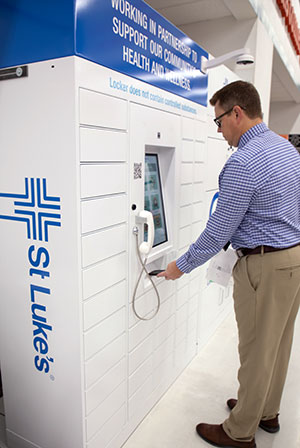 Prescription Refills Made Easy
St. Luke's medication lockers are secure, free-standing, contactless pickup locations offering you a convenient way to retrieve new prescriptions and refills. Our lockers allow pickups outside of pharmacy business hours, so you can skip the lines and manage your medications when it's most convenient for you.
Note: Medication lockers cannot be used as a pickup location for controlled substances. You will not be able to request a fill/refill for a controlled substance.
Start Using St. Luke's Medication Lockers for Prescription Pickups


Step 1: Select Your Preferred Medication Locker and Establish Care with Filling Pharmacy
Review the list of medication lockers featured below and choose the locker that best fits your needs.
Sign in to MyChart (or create a MyChart account if necessary), then access the Medications page's Manage My Pharmacies activity to add your desired locker. This ensures the locker will be added to your list of preferred pharmacies and make it available for future prescription fill requests. Or, reach out via phone to the filling pharmacy associated with your preferred medication locker for a brief enrollment call.

During this call the pharmacy staff can update your medical record (or create one if needed), educate you on how to operate the medication lockers, and initiate any prescription transfers from other pharmacies so you may pick them up at a medication locker.

Let your providers know about your new filling pharmacy.

This ensures that any new prescriptions issued from their offices are promptly filled and sent to the correct medication locker for pickup.