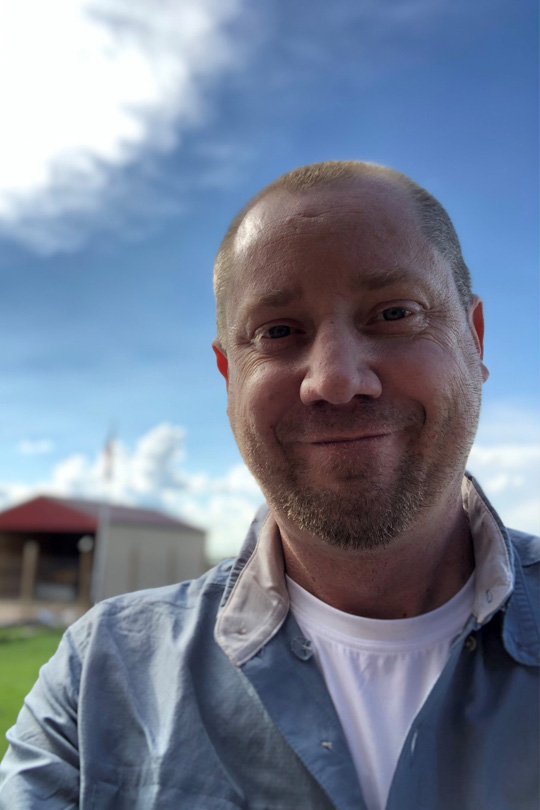 Brian Devine is an advocate for people with cystic fibrosis. "My big focus is on giving back to the CF community," he says. "I volunteer with the CF foundation at walks and events and do a lot of speaking about my life lessons. And I do clinical trials because without people doing those trials, they couldn't get drugs approved for the next generation. That's what pushes me now—that kids down the road don't have to go through all the complications we did."
Brian was diagnosed with CF at 1½ years old; he was tested after his younger sister was diagnosed at birth. "Growing up was mostly normal for me, not too many complications," he says. He did his undergraduate work at the University of Utah then went into retail management, moving around to Boise, Phoenix, Jackson Hole and then back to Idaho, where he joined D&B Supply. He worked at D&B for most of his career.
"In my 20s and 30s I was fairly healthy, except 12 years ago I was diagnosed with cancer," Brian says. And although the cancer has not returned, six months of chemotherapy did tremendous damage to his lungs. "I slowly declined over the years."
His bosses at D&B were extremely amazing, Brian says, always working with him around his health issues. "I told myself years ago, if and when I got to a point where I could not succeed at my job while maintaining great health, then I would throw in the towel. Well, that point came just about four years ago when I was placed on oxygen 24/7 and just couldn't do both the job and my health, so I retired."
As his lungs worsened, he was sent to Seattle to start the process of getting approved for a double lung transplant. To prepare for the transplant and make himself as strong and fit as possible going in, Brian turned to a website, Attain Health, designed to help people with CF optimize their health. His health began to improve, and he was no longer a candidate for the transplant.
"Over the past two years I was pretty stable," Brian says. "I've done lots of research trials. But my lung function is currently only 34%, which is considered extremely low. I still require oxygen when I sleep or work out."
Brian is now 44 and lives near Twin Falls, where he grew up. He bought an acreage south of town, where he lives and enjoys the country life with his dogs, Rosco and Cooper ("they mean everything to me"). He loves getting outdoors, especially mountain biking. There was a time when he couldn't ride, but that changed when he got an e-bike. "It really turned my life around," he says. "I love trail riding around Stanley and Sun Valley."
He's looking forward to FDA approval of a new drug referred to as "the triple combo," which should happen any day. "It will increase my lung function and drastically improve my quality of life," he says. "This is my second chance."
His relationship with Attain Health has continued, and he now hosts online peer engagement groups for youth, teens and adults. "I help CF patients connect with each other because we can't do it in person. We have to stay six feet apart from each other to keep from spreading germs, so it can be a very isolating disease. It's a way to chat with each other. Like, one kid got really sick and he had to go to the hospital for the first time. Others chimed in with what happened to them and what to expect. They share their experiences. We help each other. It's beautiful for everyone involved."