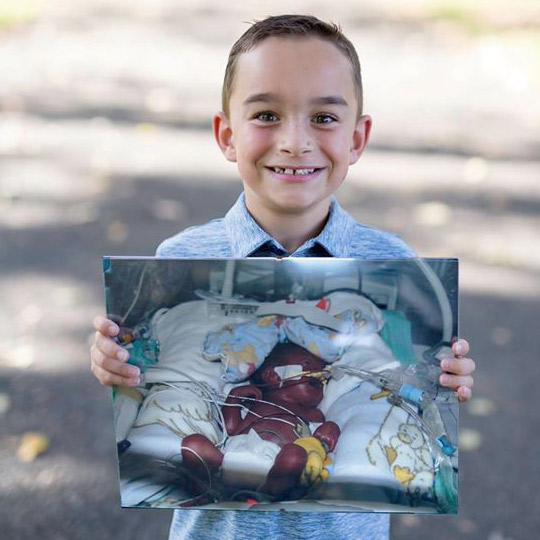 Vann was born 15 weeks early and weighing only one pound, 13 ounces, making him a "micro preemie." Within 72 hours in St. Luke's Children's Newborn Intensive Care Unit (NICU), he was diagnosed with grade II and grade III intraventricular hemorrhages, or brain bleeds, and a serious issue with a blood vessel in his heart.
"He was our firstborn, and was completely perfect in our eyes," says his mom. "But we were scared and had no idea what to expect. He endured many obstacles, but we always remained optimistic."
Vann underwent brain surgery and heart surgery, defying more challenging odds than most people face in a lifetime. He spent 103 days in the NICU before his parents got to bring him home on his actual due date. By then he weighed six pounds, eight ounces. "He was clearly a miracle in our eyes," his mom says.
Vann received home therapy for the first two years of his life, working on his development and catching up to his gestational age. Thankfully, he has grown up without any other health issues, and now, at seven years old, he's a typical first grader who loves to run, play with friends, ride his bike, be outdoors and learn at school.
He's also a boy with a big heart who wants to help others. Every year on his birthday, Vann collects pajamas and blankets for the babies in the NICU. He dreams of being a doctor someday so he can help kids just like the doctors at St. Luke's Children's helped him. His story has had a lasting impact on his family as well—his mom is now an NICU nurse at St. Luke's. "We feel extremely lucky and appreciate every day with Vann," she says.