St. Luke's Health System is pleased to announce the opening of a new Children's Rehabilitation Clinic in Meridian. Located just west of the Franklin and Meridian Road intersection, the new clinic offers specialized pediatric rehabilitation therapies, including speech, occupational, physical, feeding and assistive and alternative communication therapy.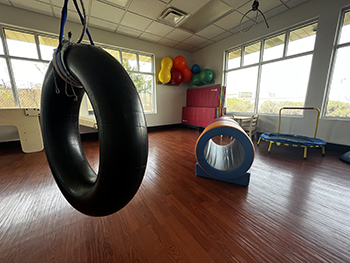 This is St. Luke's Children's largest rehabilitation clinic, and it is equipped to treat more than 350 children each month — from babies to youth who are 18 years old — and better serve the community by offering the greatest number of programs in the Treasure Valley.
The new clinic began seeing patients on Tuesday, April 25, 2023.
While the clinic is in a new location for St. Luke's, it is one that is rich with a history of helping kids.
"When we learned that a similar clinic in this very location would close, we knew it would create a significant gap in services for our community. St. Luke's recognized the opportunity to maintain these specialized services for children in Meridian, and we got to work so we could continue to offer this valuable access to care," said Katie Schimmelpfennig, system administrator for St. Luke's Children's and Women's services.
"When people have easier access to health care, it can lead to better outcomes. This, combined with offering state-of-the-art equipment and facility, along with skilled providers who truly care, will mean better health for local kids."
Demand for pediatric rehabilitation services remains high. The new clinic will help serve many of the 1,400 pediatric patients on the current waiting list and help care for the patients who were seen at the clinic that formerly occupied the same building. St. Luke's will continue to operate its pediatric rehabilitation clinic in Meridian at St. Luke's Meadowlake (on E. Louise Dr.) and also operates pediatric rehabilitation clinics in Boise, Nampa and Caldwell within the Treasure Valley.
This clinic is being fully funded by philanthropy. If you would like to make a gift to support this project, please make a donation to St. Luke's Children's today.