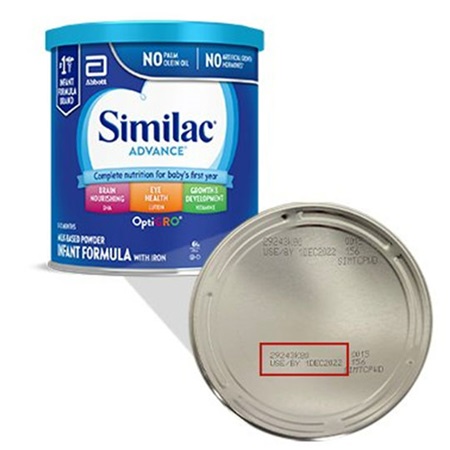 The Lot Number should be located on the bottom of the container.
St. Luke's has been made aware of a voluntary urgent recall on powdered Similac formulas manufactured by Abbott. The recalled formula was manufactured at their plant in Sturgis, Michigan. The voluntary recall has been issued in an abundance of caution by Abbott after receiving four complaints related to Cronobacter sakazakii or Salmonella Newport in infants. Cronobacter sakazakii was found in a non-product contact area. No evidence was found of Salmonella Newport. Abbott has reported distributed products are tested before being released and must test negative for Cronobacter sakazakii or Salmonella Newport and other pathogens.
The FDA website indicates that an onsite inspection at the facility included several positive Cronobacter sakazakii results from environmental samples taken by the FDA and adverse inspectional observations by the FDA investigators. A review of the firm's internal records also indicate environmental contamination with Cronobacter sakazakii and the firm's destruction of product due to the presence of Cronobacter.
Check Your Formula
The code on the bottom of the package can be entered at
similacrecall.com
to see whether a product is affected. Identified lots in the recall meet criteria as follows:
The first two digits of the code are 22 through 37
The code on the container includes K8, SH or Z2
The expiration date is 4-1-2022 (APR 2022) or later
St. Luke's has removed all product with affected lot numbers from our inpatient facilities. We are also working to ensure any affected products are removed from St. Luke's clinics.
Visit Abbott's website to review FAQs related to the Similac Powder Formula recall