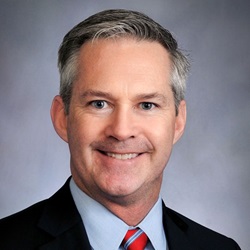 BOISE, ID – Chris Roth is the new president and chief executive officer of St. Luke's Health System. The long-time St. Luke's executive transitioned to the top position at Idaho's leading health-care organization on Feb. 1, 2020.
The St. Luke's Health System Board of Directors selected Roth to replace Dr. David C. Pate, who retired at the end of January after serving as president and CEO for more than 10 years.
"St. Luke's is such a valued community asset," Roth said. "I appreciate the immense opportunity and responsibility I have as the new president and chief executive officer of this incredible organization. I am passionate about our mission of improving health throughout the communities we are privileged to serve, and I am proud to be part of such an amazing team of caring professionals."
Roth has more than 30 years' experience in health care, starting as a pharmacy technician with Intermountain Healthcare and moving into positions of increasing responsibility in administration, specialty practice management and executive and leadership positions with Northwest Hospital & Medical Center in Seattle, Ochsner Health System in New Orleans and other health organizations. He joined St. Luke's in early 2007, when the organization had been a health system for less than six months.
Roth is a seasoned leader and health-care executive with a proven track record, and his diverse experience made him the perfect fit for his earlier roles at St. Luke's, first as vice president and chief operating officer and then as chief executive officer of the Treasure Valley region, responsible for region-wide health-care operations encompassing the Treasure Valley and West Treasure Valley communities of Fruitland, Meridian and Eagle; responsibilities included oversight of St. Luke's Eastern Oregon operations. Roth subsequently was promoted by Pate to the position of senior vice president and chief operating officer for the health system before being selected as the new president and CEO.
He has a proven track record of strategic planning, goal setting and driving performance in multiple health-care settings. At St. Luke's, Chris has led the Boise downtown hospital, guided development and municipal approval of the St. Luke's Boise master campus plan and helped to architect the integration into the system of multiple clinics, practices and hospitals, including what are now St. Luke's Elmore and St. Luke's Rehabilitation Hospital. Working closely with the St. Luke's Health System Board of Directors, Dr. Pate and community stakeholders, he has played a pivotal role in shaping the health system and building a culture of continuous improvement.
"Chris is a change leader and a relationship-builder," St. Luke's Health System Board of Directors Chairman Rich Raimondi said. "He is well tested, ethical and highly committed to our organization, our people and our vision of health-care transformation."
When Dr. Pate announced his retirement, Raimondi said, the board weighed options for internal succession and external recruitment. They assessed highly skilled and talented potential successors before determining St. Luke's would be best served with Roth as its new leader.
"We are fortunate to have had impressive talent internally to consider, which is an indicator of a strong and thoughtful organization, and the board has had a great experience with Chris over the years," Raimondi said. "We have every confidence his skillset and ability to connect with people and inspire their best makes him the kind of leader St. Luke's needs right now.
"We very much look forward to working with him as St. Luke's president."
Roth has extensive industry knowledge and experience related to emerging technologies, care delivery and care models, and the consumer experience. He has built winning teams, mentored emerging leaders and executives, and cultivated strong community partners and partnerships.
Roth intends to continue St. Luke's pursuit of improving the health in the communities it serves and offering the highest quality care. For six of the past 10 years, St. Luke's has been named one of the top health systems in the country, putting it in a league of only a handful of the very best health-care organizations in America.
Under Roth's leadership, the team will continue to execute St. Luke's transformation of the health system's business model from fee-for-service to value-based care. More than 30 percent of St. Luke's business now represents the organization's full financial accountability for patients' outcomes.
"It's going to be exciting to see the great things that Chris, the team and all the wonderful employees and physicians of St. Luke's accomplish," said Dr. Pate, who worked directly with Roth to ensure a smooth transition and seamless operations. "Chris is committed to our vision of health-care transformation and has substantial end-to-end experience across the health-care delivery continuum."
A community institution since 1902, St. Luke's is the only not-for-profit health system based in Idaho. It's also Idaho's largest private employer with 14,830 employees at eight hospitals, St. Luke's Children's, a nationally recognized cancer center, more than 200 clinics throughout southern Idaho and into eastern Oregon, and the region's first virtual care center.
As an invested participant in our communities, St. Luke's cares for and cultivates civic life and wellbeing through millions of dollars in unreimbursed services, care and investments in community services and programs. Philanthropic investment from thousands of donors provides funding for patient access, cutting-edge research, children's programs, technology and life-saving services.
############