An early September visit to McCall turned from a relaxing RV trip with her husband into much more for Tammie Bankhead.
Shortly after arriving in McCall following the drive up from Meridian, both came down with a head cold. Within 24 hours, Tammie's quickly moved to her sinuses and she began having respiratory issues.
This was a concern, as Bankhead has asthma. Her medication and inhalers were not working as they should to provide relief.
Due to the quick onset of the more serious symptoms, she chose to seek care at St. Luke's McCall's emergency department.
"It was wonderful knowing we were able to go to a St. Luke's facility while we were in McCall," said Bankhead, who receives her health care from St. Luke's in the Treasure Valley and utilizes MyChart. "It was comforting to know that the care team in McCall would have access to my medical record and a list of the medications that I take."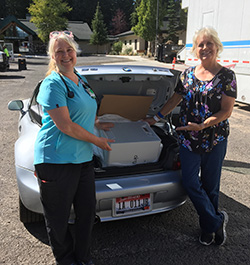 After arriving in the emergency department, the care team were able to review Bankhead's asthma and respiratory issues and provide the necessary treatments.
"The care I received at St. Luke's McCall was great, and they were able to get my asthma under control."
A member of the team that day was respiratory therapist Wendi Blaylock. While caring for Bankhead, hearing about her asthma history and learning that she heats her home with wood, Blaylock felt she would be a candidate to receive a free home air purifier.
The home air purifiers are part of a new program at St. Luke's McCall that supports individuals with lung disease (such as COPD, lung cancer, or asthma). St. Luke's McCall received eight air purifiers in the spring after submitting a request through a program offered through the American Lung Association, made possible through their corporate partnership with Airgle Corp, a manufacturer and distributor of home air purification systems.
The air purifiers, which retail at $1,500 apiece, are designed to clean small- to medium-sized rooms.
"When we heard about this program, we applied right away," Blaylock said. "We regularly see patients who would benefit from having an air purifier due to our dry and dusty climate, the effects of wildfire smoke in the summer and heating with wood stoves in the winter.
"We were thrilled when we were notified that our request was approved, and we received eight air purifiers."
To date, the respiratory therapy team has donated three of the air purifiers to patients to help them at home. When a patient with a lung condition is seen at the hospital or clinic, the care team reviews the needs of the patient and will offer an air purifier if the patient would benefit from having one.
Bankhead set up her new air purifier when they returned home and said it has made a difference.
"Nobody likes having to go to the emergency department when they're on vacation, but coming home with a new air purifier was a real bonus," Tammie said.