It has been a project five years in the making for Filer Intermediate School principal Matt Mahannah and his team.
"When I was hired in 2017, Matt shared his ideas about building a trail on the school property," said Christi Hollifield, physical education teacher for Filer Elementary and Intermediate Schools. "Since then, we have been working toward funding it."
With support from St. Luke's and FitOne, the vision for a Filer walking path is now a reality with the paving of the trail recently completed this fall.
"It is so nice to see major progress," Mahannah said. "Thank you to all of the people and organizations that have helped with this project!"
Mak Ellsworth, program coordinator for St. Luke's Magic Valley Community Health added: "This project is a great example of how the St. Luke's school grant funding is supporting students and their community at large. The fitness trail project is a 0.8-mile paved walking path connecting the elementary and intermediate schools. This project received additional funding from Clif Bar, Saucony and Action for Healthy Kids."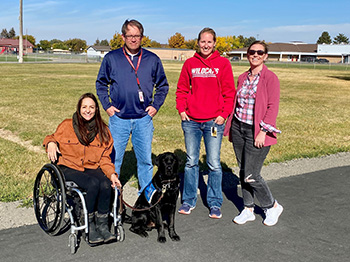 In response to the 2019 Community Health Needs Assessment, the St. Luke's Magic Valley Community Health Board responded to one of the highest identified health needs — diabetes and obesity — by creating a workgroup to implement strategies that would target upstream approaches to these issues.
The workgroup prioritized the improvement of physical activity and/or nutrition for youth in Twin Falls and Jerome County public elementary schools. Since 2019, the workgroup has provided more than $102,000 in grants to 24 elementary schools in Twin Falls and Jerome counties.
"Many of the school grants focused on enhancing their PE and/or recess programs, both indoor and outdoor, through purchase of additional equipment and supplies," said Kyli Gough, St. Luke's Magic Valley Community Health manager. "Those schools have reported more physical activity among students, fewer discipline referrals, better cooperation and sharing as benefits of the grant investment."
"So far, kindergarten and first grade students have all taken an adventure on the fitness trail," said Holifield. "I often see community members walking in the early morning and I've seen people consistently in the evenings."
While the trail is now paved and being used by students, staff and community members, there is still work to be done.
"We still need fencing, fitness stations and signage for track rules and station instructions," explained Mahannah. "The timeline will depend on funding. If it takes six months or the next 10 years, we want to see this project through."