Dr. James Johnston, a Navy veteran, has been in the trenches – so to speak – alongside St. Luke's staff members.
The longtime orthopedic surgeon came to Boise in 1992 and performed thousands of surgeries as a practicing doctor. Johnston, who is now retired, worked in the St. Luke's Health System for about five years after Boise Orthopedic Clinic was sold to St. Luke's.
So, he's seen the inner workings of the hospital staff and the work and effort provided for patients every day.
But suffering a recent heart attack gave him a different perspective and a new appreciation for St. Luke's employees.
"Across the board, everyone was absolutely professional," Johnston said.
On Nov. 23, Johnston, 66, began a training ride on his exercise bike. About 10 minutes in, he realized that something was wrong.
"I was downstairs, less than 10 minutes into my workout, and all of a sudden I didn't know what I was doing," Johnston said.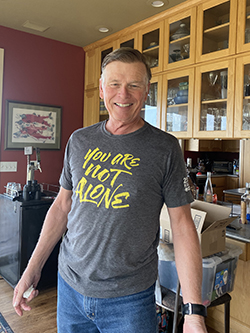 He realized he was having a heart attack.
Johnston made his way upstairs and let his wife, Lynn, know of the emergency. Even with their quick action – and punctual staff – it was not a usual cardiac situation.
"Dr. (Robert) Duerr must have been in the ER room within five minutes of me coming through the front door," Johnston said. "They were all very professional and quick.
"Dr. Duerr said it was the most times (seven) that he had defibrillated a human being who survived."
Johnston was in the hospital for three more days after the incident. He appreciated the care he received and appreciated the manner in which that care was delivered.
"They had normal human interactions with me," he said. "It's not all about strictly medicine. It's about cracking a joke, it's asking questions, it's about talking about any subject that comes up. I think that's extremely important."
A few months later, Johnston – who was capable of riding 100 miles on a bike last summer – is beginning a new exercise routine with the help of the cardiac and pulmonary rehabilitation experts at the St. Luke's Heart Health and Rehabilitation Center in Meridian.
"They're all great and they personalize things so well," Johnston said. "They asked me what I want out of these classes. I told them I want to return to exercise while being monitored so we can identify what my risks are. And they're on that like crazy."
The monitored exercises have allowed Johnston to know when he can safely return to different types of physical activity. A snowshoeing trip with a group of his friends? That will have to wait. Some telemark skiing where he lets the chairlifts do the climbing? That's on his calendar.
Johnston is a thankful person these days. From Nov. 23 through today, he's very appreciative for the treatment he received.
"I'm so happy to be alive," he said. "It's incredible."
Dr. Johnston's advice for anyone feeling like they're having a heart attack? Call 911 first.
"Don't delay contacting medical personnel," he said. "People are always afraid and think, 'Well, what if it's just indigestion?' Who cares? I'd much rather be diagnosed with indigestion at the hospital than (deal with an emergency) at my house because I didn't go to the hospital.
"If something is happening and you're not certain what it is, don't delay. Get help."