With holiday music playing, Santa Claus hanging around and welcoming indoor warmth, Tuesday's St. Luke's FitOne Family Field Day felt especially festive.
Adding to the fun feelings at the Caven-Williams Indoor Complex on the Boise State campus is the fact it had been almost three years since the last Family Field Day — a byproduct of the COVID-19 pandemic.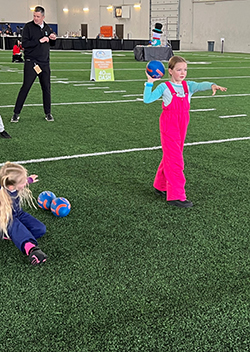 Held before the Famous Idaho Potato Bowl, the event let kids get active with 20- and 40-yard dashes, a ladder drill, football toss and the chance to catch a few passes.
"It's just nice to be back doing the things we like to do, having fun and seeing the kids come out again and just have a good time," said Alissa McKinley, St. Luke's FitOne race director.
Prior to Eastern Michigan's 41-27 win over San Jose State, fans of both teams and local football enthusiasts competed in races, tried to top one another running the ladder or just enjoyed burning off some energy — call it a warmup in more ways than one with temperatures outside hovering near freezing.
St. Luke's team members were on hand offering goodies and registering kids — the top eight 40-yard dashers got to compete on the field after the first quarter — while Ryan Murkle from St. Luke's Sports Medicine helmed a booth that promoted brain safety. Volunteers from Axiom Fitness helped oversee the events and tracked the top times in the 40-yard dash.
From a California family running around in snowpants during their first time in a snowy environment to a 7-year-old girl celebrating her birthday and even one kid dressed like a reindeer, it was good for everyone to be back in-person at the Family Field Day.
"With the time of the year and how we haven't been able to do this for a while, it's pretty great seeing all those kids out here smiling again," McKinley said.