Meet Panther: Facility dog uplifts St. Luke's pediatric cancer patients and staff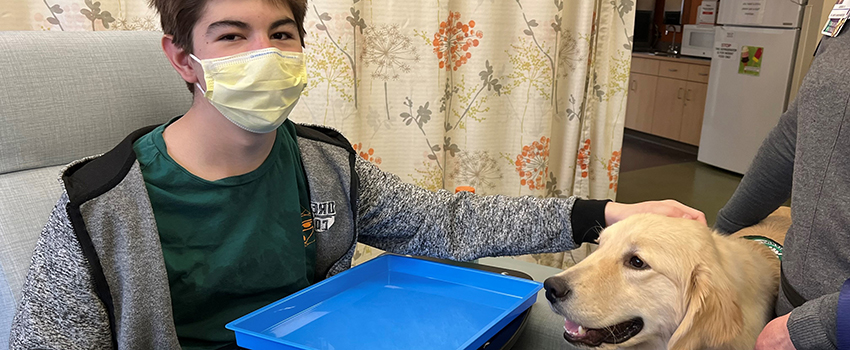 Fifteen-year-old Lorenzo Garcia of Twin Falls pets Panther before an infusion at St. Luke's Children's Cancer Institute in Boise.
By Dave Southorn, News and Community
No one can match the excitement patients have for the newest team member at St. Luke's Children's Cancer Institute when he comes to work every day.
He only turned 1 in September, loves Cheerios and has no idea how to use a computer.
His name is Panther, the facility dog, who began his job just before Thanksgiving and is already picking up spirits for patients and staff alike.
"It's hard not to smile when you see him; he's incredibly cute," St. Luke's child life specialist Jessica Hardy said with a laugh. "It's something we had wanted to have for a long time, and immediately, even though he's only been here such a short time, you see what dogs like him do for people."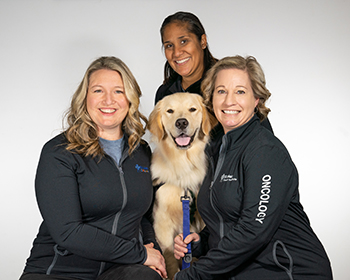 Trained since birth at a facility near Atlanta called Canine Assistants, the Golden Retriever came to St. Luke's thanks to a grant from Hyundai Hope On Wheels.
The grant has in the past benefitted St. Luke's music therapy program, playroom and research related to St. Luke's pediatric oncology efforts. Bronco Motors President and CEO Grant Petersen Jr., a former Luke Award honoree, played a major role in securing a facility dog.
Hardy and fellow child life specialist Sarah Berkowitz, along with nurse supervisor Michelle Hancock, flew to Atlanta in November. After a few days of intensive training that included mock patient interactions and even a mall visit to show how to handle a mob of kids wanting to pet him, Panther and his crew flew back to Boise.
"We landed about 10:30 p.m. on Thursday (Nov. 17), and I brought him in Friday for a little bit," said Hancock, who is Panther's primary handler and who he lives with on a five-acre farm. "His first patient was an 11-year-old who didn't want to be there — who would? When I saw her the week before, it was tough, everything was uncomfortable. Well, once Panther was there, she was so involved with him, she had her full chemo session and didn't even know it was happening.
"To see the difference with his very first patient, that was incredible."
Panther, who was born into a litter of puppies with Marvel character names (his brother is Captain, as in America), primarily is there to help children with uncomfortable procedures. He's around to lend a head to pat, soft fur to pet and a calming presence during infusions or blood draws. He also will provide support to families and staff in difficult meetings or for bereavement.
Kim White, who served as child life director at St. Luke's for 27 years, began exploring the opportunity to have a facility dog in 2020.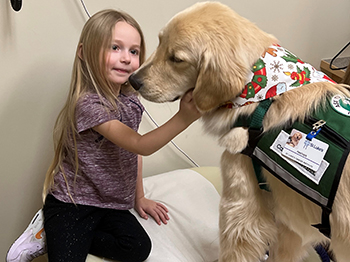 Four-year-old Stormy George pets Panther during a recent doctor's visit at St. Luke's Children's Cancer Institute.
"The more I researched, the more I discovered that the therapeutic possibilities for our patients, families and staff were endless," White said. "I am 100% confident that Panther will take our care of patients, families, and staff to the next level and change peoples' experience for the better. He was born for this work, and I feel so blessed to have been part of it."
Panther is not the only four-legged team member at St. Luke's. A cast of good dogs support a variety of efforts, from therapy to security.
Panther has been a hit with patients, from some of the smallest to the more seasoned patients. It was an immediate connection with 4-year-old Stormy George, who was enamored with his soft fur and calm demeanor. She even got to give him a treat, much to her delight.
"She's going to ask for him every single appointment from now on," said her mom, Erin.
At St. Luke's Children's Cancer Institute, patients are often treated over long periods of time, so they develop a connection with their doctors and nurses. And now, they will with a certain very good boy.
"They're our patients for quite a while," Hancock said. "When they come here, they'll know us and they'll know him, and they'll go looking for him."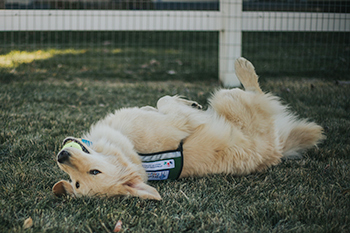 While looking into the perks of a facility dog, Hardy said she noticed that kids may open up more to them than to a medical provider. Some children's hospitals have had patients write letters to the dogs, giving an insight into how they're feeling and what their preferences may be.
"Engaging patients in a relationship here is really important, and if it so happens they can express themselves better to Panther, that is another benefit," Hancock said.
As he becomes more ingrained into the clinic at St. Luke's Children's Cancer Institute, there are plans for Panther-related items to be able to be taken home. He's new, but he will become a big part of daily life at Idaho's only children's cancer facility.
And his continued presence, as with his arrival, will be thanks to philanthropic efforts. The St. Luke's Health Foundation will oversee Panther's care, from vet visits to even grooming — a mobile groomer visits St. Luke's weekly to keep him looking handsome and to keep with infection prevention protocols.
"Our clinic is very fortunate," Hancock said. "We are so thankful for those donations, because they do so much for our kids, and now it'll help support him.
"He's a special dog, and I'm so glad he's here with us."