St. Luke's McCall Foundation supports hospital expansion with $5.6 million donation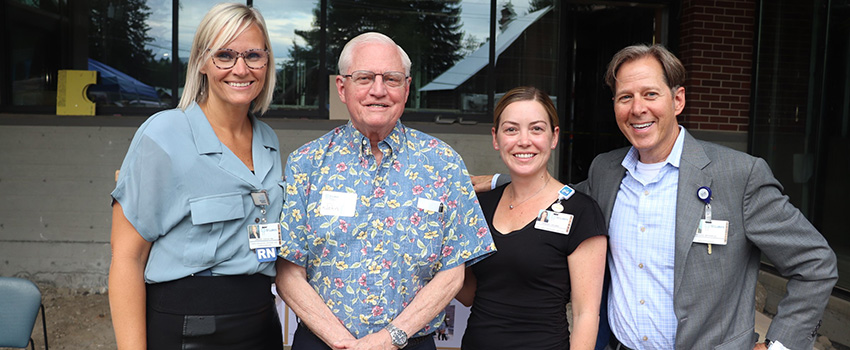 St. Luke's McCall Chief Operating and Nursing Officer Amber Green, St. Luke's McCall Foundation President John Westwater, St. Luke's Senior Vice President and Chief Operating Officer Sandee Gehrke and St. Luke's Vice President of Population Health Dennis Mesaros.
By Laura Crawford, News and Community
The St. Luke's McCall Foundation recently presented St. Luke's Health System with a check for $5.6 million to support the hospital facility replacement and expansion project.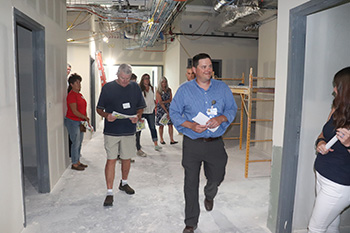 St. Luke's McCall nurse manager Karl Linzmeyer smiles during a tour of the McCall hospital expansion.
The check was presented during the Foundation's donor appreciation event on Tuesday, Aug. 9.
When the hospital expansion project was given approval to move forward in 2016, the Foundation kicked of the "Right Care, Right Here" capital campaign with a goal of $5 million to support the project.
The goal was exceeded through donations from individuals, private foundations and grants.
The McCall hospital expansion project broke ground in 2018. The new two-story expansion is projected to open in May 2023. Partial demolition and remodel of the current hospital will follow the completion of the expansion.
The hospital will more than double its total square footage from 33,000 square feet to more than 70,000 square feet. The new expansion will house all clinical services, including:
An expanded emergency department with additional exam rooms, a modern trauma bay, a new triage area and a designated waiting area for patients and family members.
An expanded surgical services department with an additional operating room.
An expanded lab, medical imaging and cardiopulmonary departments to accommodate patients, advanced technology and privacy.
Modern labor and delivery rooms designed to meet every family's needs and provide a comfortable and safe childbirth experience.
Private and flexible patient rooms that increase our ability to care for more patients requiring an overnight stay.
An expanded registration area to increase patient privacy.