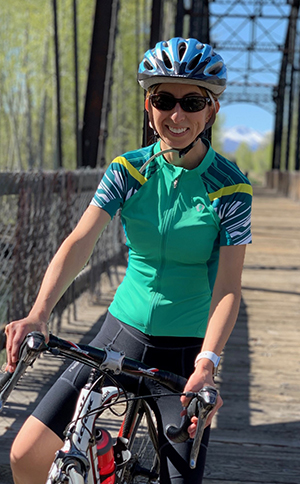 Like many Idahoans, Heather Dermott loves the outdoors.
Dermott, her husband and their two children make the most of the Gem State's natural amenities, including trails and trout streams.
Or, at least they did before the COVID-19 pandemic started sweeping through.
In recent days, Dermott, who turned her passion into her profession by co-founding and leading Idaho Business for the Outdoors, has found some different ways to engage outside.
For starters, Dermott said, "We have been encouraging people to stay close to home."
Idaho Business for the Outdoors is a business-member nonprofit organization founded to "unite businesses across industries in support of the outdoors." St. Luke's Health System is one of those members, recognizing the impact outdoor activities and access to the outdoors have on community health.
"Finding time to be outdoors and in nature can provide several positive health benefits," said Angie Gribble, St. Luke's director of community health.
"Getting outside provides opportunities for movement and physical activity and promotes mental and emotional wellbeing, including a potential reduction in anxiety and stress relief."
A 2018 study published in The Journal of Positive Psychology showed that as little as a few minutes outdoors daily can impact health and mood.
"People are getting outside and finding that place to recharge. It speaks volumes for how people of Idaho value the outdoors and the solace it lends us during stressful times," said Dermott, an Idaho native.
Nearly 80 percent of Idahoans participate in outdoor recreation, according to Idaho Business for the Outdoors and the Outdoor Industry Association. Many residents are continuing to get outside, with Idaho Gov. Brad Little's extended stay-at-home order still permitting — and even encouraging — responsible outdoor activity.
"People should get outside and get some fresh air," Gov. Little said in a news release. "It's healthy and reduces the stress we're all feeling these days. But it has to be done responsibly, with people protecting their health and the health of the larger community."
While Dermott — and St. Luke's — defer to official social distancing guidelines from the Centers for Disease Control and Prevention, Idaho Business for the Outdoors has three helpful tips for those venturing outdoors.
Enjoy 'everyday nature'
From your own yard to the trees on your street, 'everyday nature' reminds people to appreciate the natural beauty around them, Dermott said.
"The concept of 'everyday nature' is really powerful," she said. "This is a term that has been trending lately, but it is essentially what you can take advantage of, that which might exist right in your own backyard or neighborhood."
Dermott also suggests finding a 'sit-spot' and taking a load off beneath a tree or in some grass.
"Even just sitting under a tree, or the family watching the sunrise or sunset for a week, could provide a new connection with nature," she said.
Avoid crowded trails and recreational areas
Dermott recently went for a bike ride on a local trail.
"I saw a bunch of people and thought, 'It's too crowded. I'm going somewhere else,'" she said. She hopes others follow suit.
Idaho Business for the Outdoors has worked closely with the Idaho Department of Parks and Recreation, which has noted heavy use of some trails and state parks, Dermott said. Such crowds can impact the effectiveness of social distancing.
"While Idaho Business for the Outdoors sees the outdoors as a vital place for physical and mental stress reduction, we don't want to overcrowd our parks or trails in a way that contributes to increased COVID-19 exposure," Dermott said.
Plant a garden
In lieu of adventurous camping excursions she might typically be planning right now, Dermott has spent time planting flowers — lots of flowers.
"I am an avid gardener and I absolutely love flowers," she said. "I will admit to doing some experimental orders of different kinds of flowers and vegetables that I am going to use to expand my garden this summer. I love that time in the dirt in my garden."
Not a green thumb? Dermott suggests taking walks around the block with the family—and the dog, of course.
"It's been a time to reconnect with kids. It's challenging for families, but we are also resetting and reprioritizing things right now," Dermott said. "I think it's a great time to connect with what's right around us."