When Dr. Brooke Fukuoka moved to Jerome in 2014 she sensed that there might be lack of dental treatment options for adults who have special needs.
It didn't take long for those thoughts to be validated.
In May of 2015, Dr. Fukuoka established Your Special Smiles, with a mission of increasing the quality of life for adults who have special needs and geriatric patients who have limited mobility.
Over time, the dentist worked with St. Luke's to fulfill that mission, and an idea was developed: "We'll partner with St. Luke's physicians so these patients have a chance to not just have their dentistry work done, but they can also have preventative care done, too," Dr. Fukuoka said.
In a sense, Dr. Fukuoka and the surgical team at St. Luke's Jerome developed a one-stop shop for these special needs patients.
The program was very much a collaborative effort, Dr. Fukuoka said.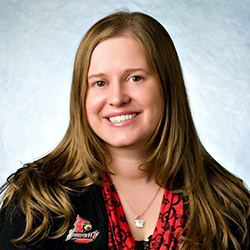 "Dr. David McClusky really helped me get the ball rolling, and he helped me convince St. Luke's that this would be a good idea," Dr. Fukuoka said. "And I definitely owe thanks to the Magic Valley St. Luke's Foundation and Dawn Soto. She's been instrumental in getting the funding we needed."
Soon, physicians at St. Luke's Jerome – including Dr. Nicole Ruske, Dr. Joshua Kern and Dr. Catherine Doyle – were working side-by-side with Dr. Fukuoka.
"We were able to provide dental care and preventative screenings under anesthesia to a host of patients who have special needs," Dr. Ruske said. "This allows us, for example, to be able to perform a pap smear for a patient that would otherwise not get this critical cancer screening because they can't tolerate an in-office procedure. The families have been extremely grateful."
Michelle Martinez can attest to that. She is the parent of a young adult who have special needs, and she can share story after story about the roadblocks she encountered while trying to get health care – specifically dental care – for her daughter, Alexis.
"I've had some nightmare experiences," Martinez said. "But I heard through the grapevine that I should call this doctor. Nobody knows how to say her last name, so we just all call her Dr. Brooke. So, I tracked Dr. Brooke down and I finally called her, and she was just the most genuine, caring dentist. I hung up with her and I just bawled, because we can't find that as a parent of a special needs child. It's so hard."
Martinez knew she had found the right dentist for Alexis, who is 26.
"My daughter had a seven-hour dental session with Dr. Brooke at St. Luke's," Martinez said. "They actually offer other things, like toenail clippings and ear cleaning and other things that would bother them while they're awake. So, it's nice that they offer those services while they're sedated."
It was an arduous process, but one that resulted in overwhelming success.
"The love and compassion – Alexis got scared, because she wasn't sure – but Dr. Brooke made her feel so comfortable," Martinez said. "Alexis tells everyone about Dr. Brooke, and she has actually graduated … from sedation to where she is now being seen in an office."
Lita Marie Summers had a similar experience with her 25-year-old son, Trevor Burris.
"I think it's an important program for special needs patients," Summers said. "Sometimes it's difficult for them to open their mouth or they're afraid. But she was very gentle, and he didn't have any pain afterward. … Dr. Brooke is great, and St. Luke's has been wonderful. When (Trevor) sees her now he wants to give her a big hug."
Dr. Fukuoka said the feeling is mutual. And that, perhaps more than any other reason, is why Your Special Smiles has become a success story in Jerome: Dr. Fukuoka enjoys her work, values the surgical team and – perhaps most importantly – she enjoys being around her patients.
"I like people who have disabilities," she said. "They are just so genuine … and I enjoy spending time with them and working with them. I like them as people. It's pretty satisfying."
Dr. Fukuoka hopes the program continues to thrive.
"I like the partnership with St. Luke's, and I think it's working great," she said.
St. Luke's is also helping folks get the dental care they need outside of Jerome. The Brighter Smiles Project is a collaboration of the St. Luke's McCall Auxiliary, St. Luke's McCall Foundation and the Adams County Health Center's Dental Clinic, located in Council. The program provides dental care for lower-income adults and children to treat existing problems and preventative care to help patients avoid painful, complicated and expensive dental conditions. This helps patients avoid serious dental infections that sometimes require emergency care at St. Luke's McCall.