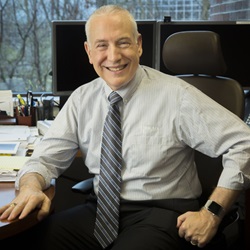 St. Luke's cares for all the people in the communities we serve. That often means we see people with chronic diseases but without the insurance, financial means or transportation for medical appointments or to attend to other needs critical to their health.
Without our involvement, these people may fall through the cracks and show up in crisis in our emergency rooms and intensive care units; without a doubt, they are at greater risk of complications and death. St. Luke's is helping these patients get their diseases under control and their lives back in ways that reach far beyond the standard doctor's visit; here is St. Luke's Public Relations Manager Laura Crawford with a report.
- David C. Pate, M.D., J.D.
---
Jason Williamson of New Meadows and Vallerie Harmon of Donnelly both know the difficulty of managing chronic health conditions alone and without insurance or primary care.
It's community members like Williamson and Harmon that St. Luke's increasingly is able to support, in ways not historically identified with health care.
Both were recently able to get their conditions under control with the support of St. Luke's McCall's Complex Care Fund, a community program that provides access to prescriptions, travel support and specialty care for qualifying community members. The fund is supported by St. Luke's McCall Auxiliary and Foundation through proceeds generated from Auxiliary Thrift Shop sales as well as Foundation grants, annual giving campaigns and individual donors.
The Complex Care Fund is one of many ways that St. Luke's works to close gaps for patients.
The fund was established at the closing of McCall's free Community Care Clinic in 2015. Along with other locally supported programs such as the Community Medical Fund, Community Children's Medical and Brighter Smiles, it ensures that patients not covered by other state and national programs have access to the services they need.
Dr. Jennifer Gray heads up the committee that works to match patients with the funding available. In her capacity as a family medicine physician, she witnesses the difference the service makes.
"We are able to provide continuity care to patients who would not otherwise receive it," she said. "I have seen the impact firsthand of access to quality care and management of chronic conditions, which allow patients to avoid higher-acuity care in the hospital and emergency department."
And although the fund subsidizes many of the costs associated with care, appointments, providers and services can be equally difficult to navigate for patients, which is why St. Luke's has continued to methodically fill the gaps.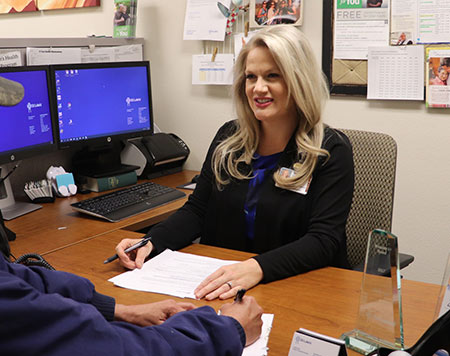 St. Luke's McCall Patient Financial Navigator Lindy Carr helps patients enroll in statewide and national medical programs and coordinates care between providers, scheduling follow-ups for patients to keep them progressing.
"Many times, patients come to us alone and with little hope," Carr said. "Lacking basic things, such as regular doctor visits or medications to treat chronic disease, is stressful and leaves people feeling tired and sick.
"Working as a team to provide these resources decreases this stress and with that, hope returns," she said. "Seeing that transformation in our patients is what makes my job so rewarding."
In myriad ways, St. Luke's is seeing how moving upstream in the care continuum is having disproportionately beneficial impacts for all involved: patients, providers, insurers and beyond.
In McCall alone, access to the Complex Care Fund and care coordination efforts have led to significant improvements in patient health, care utilization and cost.
Data collected from a small sample of last year's Complex Care Fund recipients shows a 75 percent decrease in ED visits and hospital admissions, for total savings of nearly $90,000. At the same time, clinic visits increased.
What's the conclusion to be drawn? Patients are accessing the long-term, consistent care they need from primary care providers, counselors, dentists and others to manage emergent and chronic conditions, rather than waiting for a crisis.
Real benefit to patients
Many know Williamson for his time on the ice rink---overseeing the facility, developing youth hockey programs and participating himself. Many don't know that he has Type 1 diabetes, a condition he's managed his entire life.
Two years ago, Williamson began experiencing diabetes-related complications.
The flu, gastrointestinal pernicious anemia and diabetic ketoacidosis (DKA)—a life-threatening complication of diabetes—landed him in St. Luke's Boise's ICU twice.
"It almost killed me," Williamson said.
He'd had significant weight loss during these visits, and he was also in need of dental and vision care. The medical bills were piling up. He was referred to Carr and team.
"I had always been the one offering to help, not asking for it," Williamson said.
Williamson was qualified for St. Luke's financial assistance program to help with medical bills. McCall's Complex Care Fund supported him as he regained control of his diabetes.
Before leaving Carr's office his first visit, he'd also been scheduled for appointments with McCall family medicine physician Dr. Dave Hall, dentist Ryan Speirs and specialists at Humphreys Diabetes Center in Boise.
Within four months, Williamson has his diabetes under control with new medication, has new dentures and glasses and is appropriately gaining weight back.
"I was disappointed in myself for not managing my disease," he said. "I thought I was bulletproof.
"The immediate care and expertise I received from Dr. Hall, Humphreys and Lindy was amazing," he said. "I feel wonderful and so grateful for the support."
Harmon is another example of how programs and care coordination can turn the tables for patients.
She was trying to manage multiple chronic health conditions on her own, rarely seeing a doctor though she consistently suffered from chronic obstructive pulmonary disease, (COPD), bronchitis, sleep apnea and high blood pressure. Her job with a commercial cleaning company, combined with her health conditions, became increasingly difficult to keep up with.
She was hospitalized twice with pneumonia and flu and was referred to St. Luke's McCall's care coordination program.
Harmon met with Carr and registered nurse Dianne Robinson and was qualified for the Complex Care Fund. The team helped her make an appointment with McCall family medicine physician Dr. Sarah Curtin. She's since received medications and a portable oxygen tank system to help with her respiratory difficulties.
Carr also helped Harmon apply for disability, which she qualified for based on the severity of her illnesses. Though she was approved, it was nine months before she was eligible for health insurance coverage.
The Complex Care Fund was her backstop through this waiting period.
Harmon's health has improved significantly. She sees Dr. Curtin every six months for a check-up, is receiving dental care and is getting new dentures and eyeglasses.
She's also making lifestyle changes to improve her health. She quit smoking, has adopted healthier eating habits and has become more active, taking regular walks and spending her increased energy with her family and grandchildren.
"I'm so grateful for the support," Harmon said. "The care coordinators have been so perfectly swell."