Soon-to-be parents in Elmore County are being greeted with a surprise when they walk in the doors of St. Luke's Elmore Medical Center in Mountain Home. The hospital recently opened a new, upgraded Labor and Delivery Unit designed to keep more health care, and newborn babies, close to home.
St. Luke's Elmore completed the remodel and expansion of the labor and delivery rooms in September. The new rooms have better equipment and finishes, are larger to accommodate expanded families, and offer parents and babies more privacy and security like they would find in other St. Luke's Hospitals.
"While St. Luke's Elmore has provided labor and delivery services for many years, it's been done in a confined, outdated 1980s-era space that doesn't provide our local moms and families with the full patient experience they expect from a St. Luke's hospital," said Michael Blauer, the St. Luke's Elmore administrator.
This phase of the labor and delivery refresh also includes a new nursery and dedicated nurses' station for the specialized team that's trained to deliver babies. The work is part of the $1.6 million in improvements aimed at better meeting the needs of a growing community. The next closest hospital for Elmore County's 29,000 people is 40 miles away.
"One of the things St. Luke's is really committed to doing is preventing people from having to travel that hour to Boise, especially in the winter. Instead, we want to provide them with a great care option close to home," Blauer said. "Earlier this year we did that with our newly expanded Emergency Department. Now, in addition to improved emergency care, families can feel more comfortable delivering their babies in a warm, inviting space that's closer to family and friends."
The furniture in the new rooms was barely moved in when the team had to put one of them to use. Spencer Liam Walker, and his parents Breanne Lynch and Johnathan Martin, were the first new family to stay in the new space. Spencer was born the night of Sept. 18.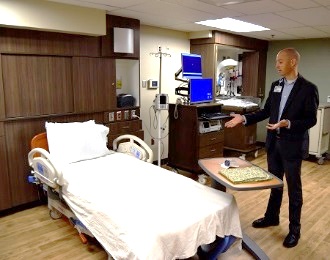 Michael Blauer, St. Luke's Elmore administrator, in one of the new labor and delivery rooms at St. Luke's Elmore.
Between fiscal years 2015 to 2017, St. Luke's Elmore delivered 400 babies. More than half of those were born in 2017 alone, when the average was 12 babies per month. That's three times the number in 2015. With the old layout, St. Luke's Elmore would not have had adequate space to meet future demands, or to efficiently handle more than three babies a day.
The Mountain Home community is home to many young families who serve at the Air Force Base. Changes there in 2017 led to the closure of on-base inpatient medical services like labor and delivery. St. Luke's worked hard to ensure the community didn't have a gap, or lose important health care, making this remodel a priority.
The next phases of construction related to this project are underway and should be complete by the end of the year. When complete, it will include two larger post-partum recovery rooms and two revamped traditional medical/surgical rooms. Also ahead is a new medication room, updated nurse station and additional room remodels.
"It's so exciting to see these changes," Blauer said. "I'm a big proponent of local health care, and improving the quality of the care we provide to our community. It's vital to the health and strength of our community. St. Luke's has made an investment here in Mountain Home, and continue to follow through on commitments to provide great care locally."