Jeremy Maxson is on a quest to teach people about the virtues of eating fresh vegetables.
The owner of Pitchfork Farms, Maxson grows bushels of produce on a quarter-acre family farm in Nampa.
With help from his three sons, Maxson sells salad greens (lettuce, baby greens, spinach and arugula), root vegetables (radishes, beets and carrots), tomatoes, peppers and microgreens at the Nampa Farmers Market.
On June 6, Pitchfork Farms is expanding to include a new pop-up produce stand at St. Luke's Nampa, 9850 W. St. Luke's Drive.
Employees and the public are invited to shop from 3:30 to 6 p.m. Wednesdays near the hospital main entrance. The pop-up stand will be open through Oct. 3.
An influx of newcomers to the area gives Maxson and his sons Tyler, Garrett and Jace an opportunity to teach customers how to prepare under-appreciated vegetables.
Kohlrabi, for example, may be unfamiliar to many shoppers, but the stout bulb-like plant can be peeled like an apple and consumed raw, cooked into soup or stew or julienned into fries and roasted.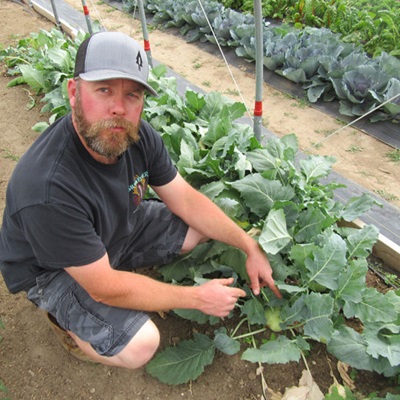 "It looks like it's from outer space," Maxson said.
Son Tyler also likes educating the public. Pointing to a row of turnips, he said, "They are mild, spicy and sweet. You can put them in stir fry."
Located minutes from the Nampa hospital, Pitchfork Farms is an ideal partner for St. Luke's. In the past, St. Luke's has partnered with Global Gardens for pop-up markets in downtown Boise and Meridian.
The goals are similar with the new Nampa stand, said Terri Landa, senior wellness coordinator in the St. Luke's Occupational Health & Well-being department.
"We are seeking to improve access to locally grown vegetables and herbs, to educate people about eating seasonal, sustainable food and prepare plant-based meals and sides, and ultimately, to improve health," she said.
Jeremy got a late start growing produce. He grew up on a dairy farm in Meridian.
"I've always enjoyed farming and knew that I didn't want to milk cows. It's a 24-hour job," he said.
While his day job is hauling heavy equipment for Western States CAT, Maxson devotes hundreds of hours to learning about farming from trial and error, research and hands-on experience. Several years ago, he took a canning class at the North End Organic Nursery. That led to planting seeds in his backyard.
Last year, Maxson raised meat chickens and turkeys on the property. The dark soil is rich with natural fertilizer. Although the farm is not certified as organic, the Maxsons are careful to use organic seeds and compost without sprays or pesticides.
Their season starts in January with green onions and tomatoes indoors, followed by carrots, spinach and turnips in February.
"I learned that we can start growing early and later in the season," he said.
In the field, orderly rows of vegetables surround a 60-foot, hand-built greenhouse constructed on the former pasture land owned by Travis and Jana Deulen. Snowy white cauliflower heads are tended carefully by hand in the greenhouse.
Seeds are planted and started in a propagation shed. The crops are rotated seasonally to take advantage of optimal sun and to protect the health of the soil.
"We never let our beds sit open very long," he said.
The Maxsons enjoy testing out new vegetables. Red cabbage is a recent addition.
"We'll try it this spring," Maxson said. "I'm curious to see, but I think people will love it."
Future plans include installation of a wash station, drying racks and a packaging table as well as an insulated storage shed.
"Everything will come out of the field, get washed and stored in cold storage. Having it on site keeps everything fresher," he said. "We're able to process it right here and it doesn't get banged up on a truck."
Clearly, Maxson loves to work the land. He enjoys giving visitors tours and sharing his knowledge about growing. He credits the success of the farm to his wife, Heather, and his three sons. And while it can be back-breaking work, it is all worth it, the farmer said.
"It's taken a lot of blood, sweat and tears, but it has been fun."
To learn more
To learn more about Pitchfork Farms, see https://www.facebook.com/pitchforknampa/