Road Projects Around St. Luke's Boise Advance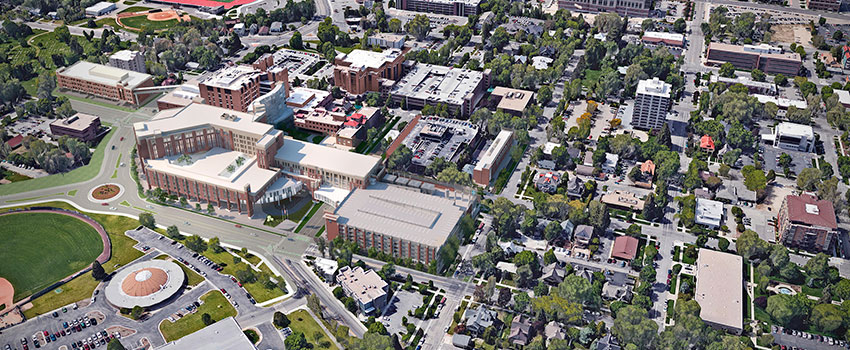 St. Luke's patients and staff, along with drivers and pedestrians in the Fort Boise area, will see construction activity stretching around the downtown Boise hospital campus.
---
Here are the latest updates:
The final phase of road improvement work is underway around St. Luke's Medical Center in downtown Boise.
Road-construction crews have made significant progress on the major transportation and utility improvements around the hospital.
Aging water, sanitary sewer and storm sewer pipes serving the hospital and surrounding neighborhoods have been replaced, and work is finishing up on road improvements and construction of the cycle track.
The transportation projects are being done in partnership with ACHD and the City of Boise.


Here are the latest developments:
Main patient/visitor parking garage in Boise
Bannock Street in front of the Boise hospital has been reopened, and patients and visitors can again access the parking garage in front of the Boise hospital from Bannock Street.
Access for patients and visitors to the front of the hospital and patient/visitor parking garage is from Avenue B to Bannock Street. Note that crews are working on the pedestrian island on Avenue B and finishing up other work in the area. Patients and visitors may need to allow extra time to park at the Boise hospital.
Please exercise caution as the cycle track and the driveways directly in front of the Boise hospital are also still under construction.
Note that the vehicle height limit for the patient/visitor parking garage is 7 feet, and delivery trucks and other vendors should not be servicing St. Luke's via Bannock streets at the front of the hospital. Instead, delivery trucks and vendors should access the Central Plant from 1st Street off Jefferson, using the alley and exiting through the alley and parking lot to Jefferson Street.
Van drivers who are bringing patients to the Boise hospital should take Idaho Street, turn right into the second MSTI driveway and drive through the MSTI garage to the drop-off/pickup point near the Bannock Street plaza.
Additionally, some physician parking has been relocated to the lot at 148 E. Jefferson Street near St. Luke's Central Plant.
The Avenue A at Idaho Street closure that was planned for July has been delayed. We will update with new information as soon as we have it. When it happens, this closure will allow crews to finish work at the Avenue A and Idaho Street intersection, which is near the patient/visitor parking lot (in the area of Idaho Street, Bannock Street and Avenue B).
Parking still will be available on Avenue A for physicians and the Children's Specialty Center, but access will be from Avenue B and Bannock Street.
Expect overnight delays/detours west and north of the hospital starting in July
Crews will be moving the "historically interesting" homes from the block of State, 1st, Jefferson and 2nd streets. Read more about the home relocation and see a map here. (Note that the move timeline has changed from the original article.)
ACHD requires much of this work to take place overnight. Please be aware you may experience delays or detours as crews relocate these homes.
Several move dates will be required to move up to 17 structures. We may not know those exact dates in advance.
Avenue C closed through 2018
Avenue C between Jefferson and Bannock streets is closed so that construction can proceed on the Idaho Elk's Children Pavilion.
Jefferson Street between Avenue B and Avenue C is open.
Pedestrian access
Pedestrians should be on the lookout for construction signage detailing the latest detours as they navigate the downtown campus and the areas around St. Luke's Rehabilitation.
---
St. Luke's Health System, in conjunction with ACHD and the City of Boise, started road construction in the summer of 2017 around St. Luke's downtown Boise hospital. This work is in preparation for the development project that will modernize the Boise hospital in order to improve access and care, while providing improved transportation flow.
The first phase of work centered on improvements to public roads and infrastructure in a 12-block area around the hospital. The goal is to better link the area with Boise's downtown urban core.
Major aspects of this phase include:
Construction of the new roundabout at the intersection of East Fort and Reserve streets.
Construction of a dedicated cycle track around the St. Luke's perimeter.
Realignment and improvements on the intersection of 1st, Fort and State streets.
Creating a dedicated right turn from northbound Avenue B on to East Jefferson.
Installing bigger sidewalks and bike lanes around the campus perimeter where space allows.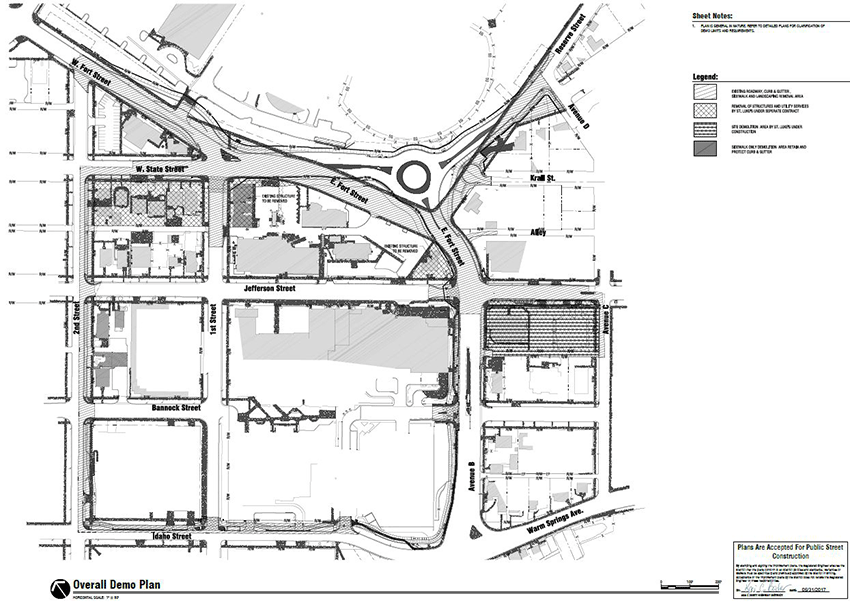 Map showing the detail area/scope of the project


Drivers are also encouraged to reduce speeds in the hospital area because of the activity. Construction crews urge travelers to please be attentive while driving through the project area as conditions change regularly. Drivers are reminded that they present an additional hazard to work crews.
They're urged to do their part to create a safe work environment to the men and women working to improve area roads. Travelers are also encouraged to add a few extra minutes to their commutes or find alternative and detour routes to avoid delays.
Improvements along the perimeter of the campus include constructing the cycle track, curbs, gutters and sidewalks.


Be prepared for delays
Hospital visitors, patients, physicians and staff should add a few extra minutes to their trip in order navigate the construction zones.
MSTI
For patients receiving care at MSTI, please note the drop-off area will remain accessible. If other instructions are necessary, signs will be posted to help guide drivers.
Tree removal
Due to the sidewalk and cycle track improvements and as considered at public hearings, trees in this area were removed. St. Luke's is contractually obligated to replace removed trees using the city forester's valuation and ACHD right-of-way rules. The tree removal is the result of three specific transportation projects the City of Boise, ACHD and the community requested of St. Luke's:
Increased intersection capacity.
City Modal Elements: the cycle track and other amenities requested by the city.
Fort Boise Master Plan – Reserve and Fort / Fort and Robbins roundabouts.
St. Luke's is working closely with the city forester to plant 90 new trees in the cycle track median, in exchange for the 64 removed. St. Luke's will ensure sensitive and appropriate choices are made for the restoration of the tree canopy throughout this portion of the plan. St. Luke's intends to plant trees that are more valuable than required under city code and has agreed to incur this expense, even though the work requiring the majority of removals is directed by the three-party agreement.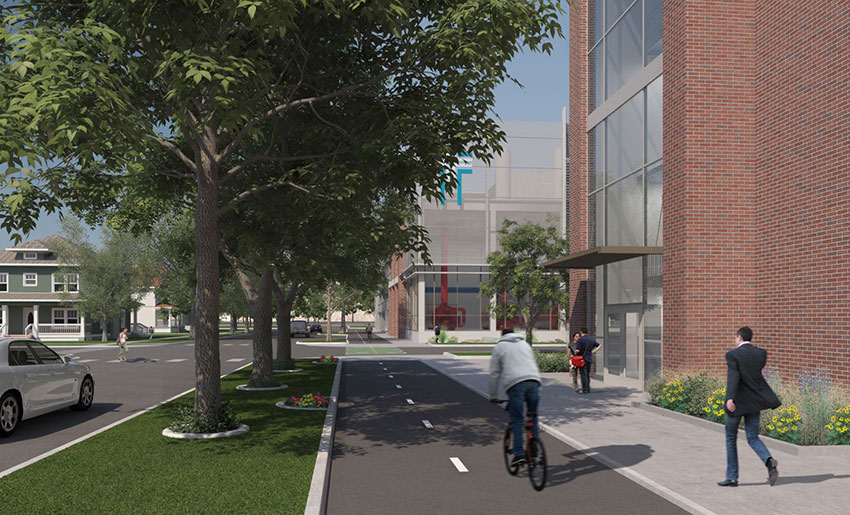 Proposed rendering of the cycle track and median showing the replacement trees six to eight years after planting.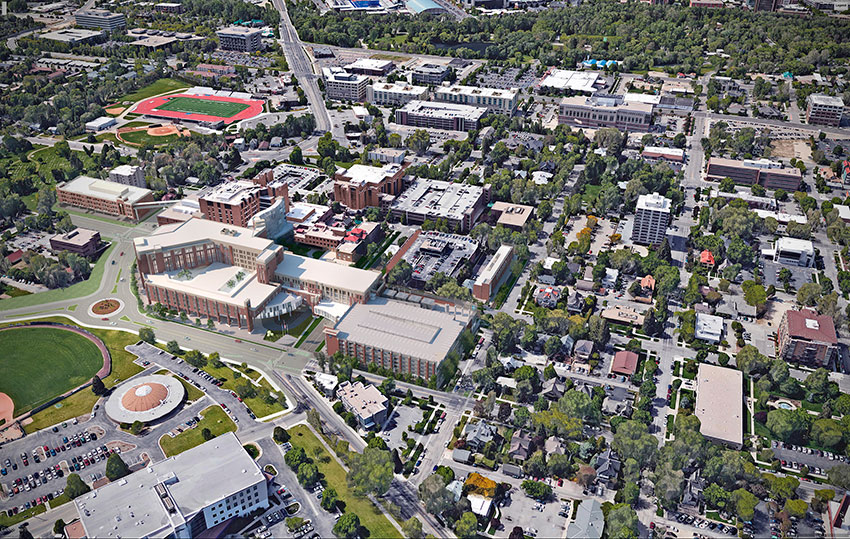 Proposed Rendering of the new downtown Boise St. campus.


Main Boise campus
The work is part of St. Luke's Master Plan for its Boise campus and is the result of years of extensive study, planning and collaboration with key stakeholders, including the City of Boise, the Ada County Highway District and area residents. The thorough process included dozens of workshops, open houses and neighborhood association meetings, which helped to shape and evolve the plan through thoughtful input.
This is not a "single project," but a multi-phased plan that will occur in stages over the years to come. At its core is our commitment to create an environment in which we can provide the best possible care for patients and families, in an environment geared toward safety, healing and comfort, explained Dave McFadyen, St. Luke's Boise administrator.
"We are happy this is finally moving forward because this development allows us to better meet the needs of our patients by providing modern, advanced care in a more user-friendly setting," said McFadyen. "While this development does add capacity, it's less about growth and more about re-configuring our campus. It will be easier to navigate and find your doctor. There's more room to care for our growing, aging community struggling with more complex chronic health problems. Our physicians will be right there ready to help in an emergency rather than a few blocks away, and our facility will be upgraded in a way that it flows better, saving precious minutes in emergencies, when time truly matters."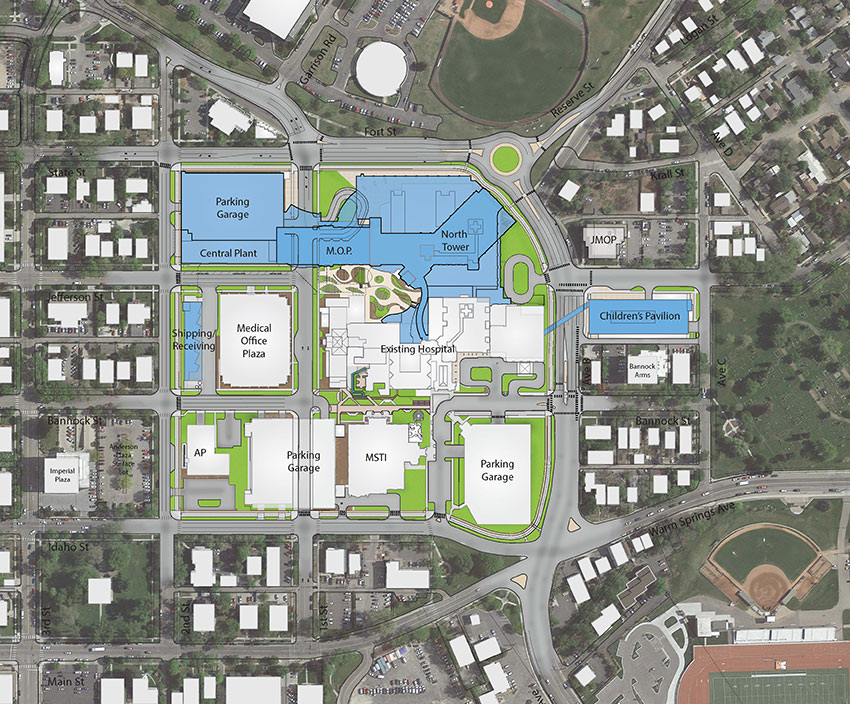 Projects:
New Children's Pavilion (under construction)
New central plant
New parking structure
New hospital tower
Expand and modernize St. Luke's MSTI cancer center
Expand and modernize St. Luke's Children's Hospital
Expand and upgrade the current hospital tower
Together, the project will be one of the largest investments ever made in Boise and Idaho. It will bring new jobs to the region while building on Boise's growing reputation as one of the most livable cities in the country with the high-quality health care that is a critical component of quality of life. The project will be financed through bonds, cash on hand and community philanthropy. This major development project is estimated to bring as much as $1.2 billion of rollover economic benefit and job growth to the community.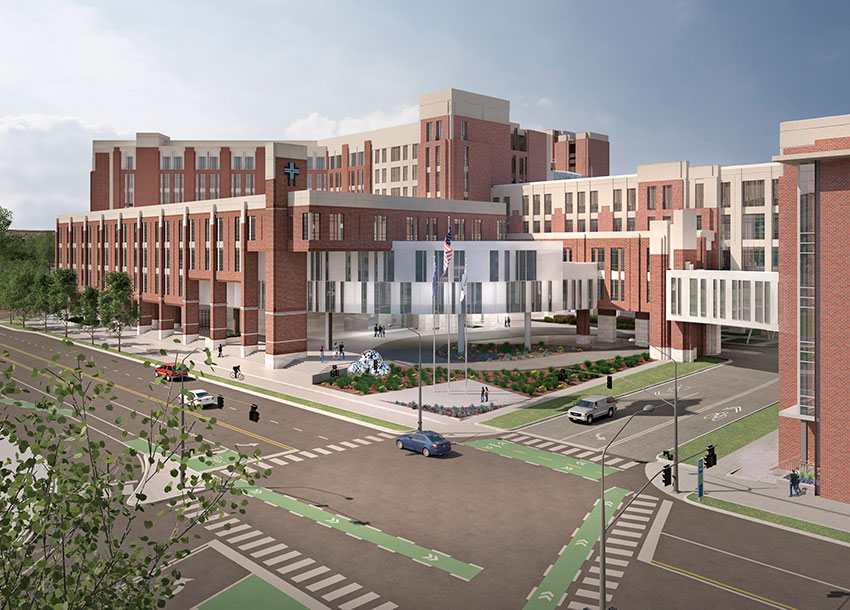 Rendering of the new St. Luke's Boise Hospital entrance at 1st and Fort Streets.