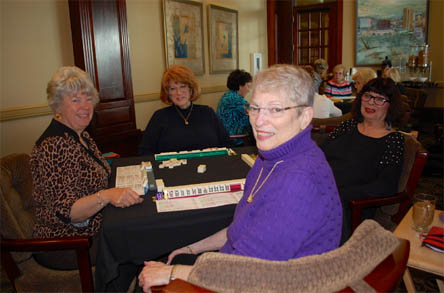 "I felt that I was on my way out," Susan Hill says of her life with myelofibrosis four years ago. She was tired all the time. An enlarged spleen made it difficult for her to eat, sleep, or even sit comfortably. She received bi-weekly transfusions to provide her with enough red blood cells to survive.
Now, thanks to a new medication she helped to test, Hill is back to her "buzzing around" self. She volunteers at her local hospital's newborn intensive care unit and with her husband at the Warhawk Air Museum in Nampa. She plays Mah Jongg with her girlfriends, knits and sews baby blankets, and helps take care of her grandchildren. A retired educator, she attends medical conferences and helps teach others with her rare condition.
Myelofibrosis causes scar tissue in the bone marrow, which then can't make enough red blood cells, resulting in anemia and extreme fatigue. The liver and spleen enlarge as they try to compensate. Genetic testing found that Hill has a mutated gene associated with the disorder.
Hill joined a myelofibrosis research study after she moved from Santa Cruz, California, to Meridian, Idaho. Although southwestern Idaho is a much smaller medical community, Hill accessed big-city research opportunities at St. Luke's Mountain States Tumor Institute (MSTI). St. Luke's MSTI's then-medical director Thomas Beck, MD, found two possible studies for her. Hill declined a Phase I trial but volunteered for the Phase III COMFORT-1 trial.
St. Luke's MSTI research staff patiently walked her through several months of paperwork and the steps to qualify and participate in the study. Clinical research coordinator Susan Mahoney, RN, BSN, is "someone special," Hill says. "She called me every day" in the early weeks. "She was and still is my guardian angel."
Hill knew that in a controlled clinical trial like this, she might receive the experimental drug or she might receive a placebo. But soon after she began taking the tablets, she became convinced that she was receiving the new medication. Within 4 weeks, her enlarged spleen shrank by 25%.
In 6 months, her spleen had reduced in half, and she had gained 10-15 pounds. "I felt great," she remembers. After 7 months on the study drug, she was invited to travel and speak about myelofibrosis at a patient symposium in San Francisco. Within a year, her spleen had shrunk from its pre-trial size of 25 centimeters to 6 centimeters, where it remains to date. Hill also goes 6½ weeks now between blood transfusions.
She encourages others to consider joining a clinical trial. "I'm a guinea pig who is still alive 14 years after my diagnosis," she proclaims with a big smile. "It was good for me, and hopefully it will be for other people—and eventually lead to a cure."
The data collected from Hill's trial directly led to the federal Food and Drug Administration approval of Jakafi (ruxolitinib) in November 2011. It remains the first and only approved agent for reducing the symptoms of intermediate or high-risk myelofibrosis. It's not a cure and not for everyone, but it has made a big difference for Hill, who remains in the study under the supervision of her current physician, St. Luke's MSTI oncologist/hematologist Benjamin Bridges, MD.

Hill, 72, continues to speak about and promote myelofibrosis education. Contact her at [email protected] or (208) 288-2099 for more information. To learn more about myelofibrosis and to find support groups nationwide, see www.mpnadvocacy.com.