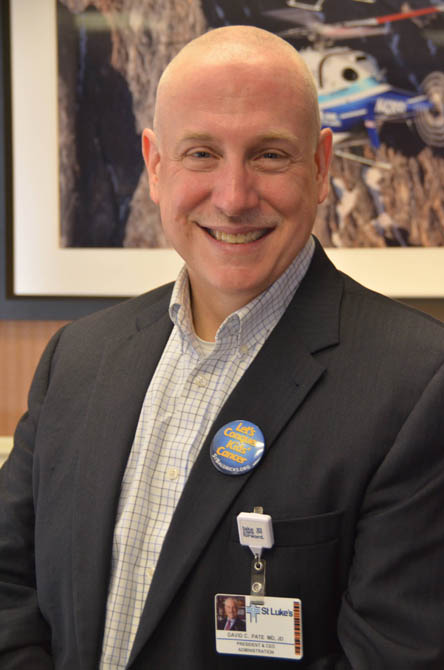 Participating on Team Breaking Bald with so many St. Luke's pediatric oncology and Pediatric Intensive Care Unit nurses has been a privilege and honor that I will never forget. Saturday was the big shave, when the PICU Breaking Bald team joined with others at the Knitting Factory in downtown Boise to cap the effort to raise money for research and treatments of childhood cancers by shaving their heads. Our St. Luke's team raised more than $64,000, exceeding our goal by more than $14,000. Of the total, more than $3,000 came from donations at a special bake sale held Thursday at our Boise hospital. Here's the link to KTVB's Seven's Hero story about the team effort: http://www.ktvb.com/on-tv/sevens-hero/St-Lukes-staffers-shave-heads-raise-money-for-cancer-research-249228021.html
I have been inspired by team members' caring for their patients far beyond the walls of the hospital.
Team organizer Jessica Kempe gets more than a little off the top.
These outstanding professionals sacrificed time away from their families, money of their own for contributions, time raising donations from others, late nights getting ready for the bake sale – and a whole lot of hair!
The nurses care so much about their patients that they chose to shave their heads to support them. Some of our patients who are cancer survivors or who are still undergoing treatment were able to attend the Saturday event and participate in the head-shaving of their special nurse.
Particularly rewarding was the fact that this was a record-breaking fundraiser this year for both St. Baldrick's and our team. Thank you to all of you who donated! We pray that this money will lead to new preventative and curative measures in our fight against cancer, especially for children who should never have to face their own mortality at such a young age.
Everything must go, including the mustache!
Saturday was the first time I have had a shaved head as an adult. My father was in the military, and when my brother and I were young and our family was not able to afford haircuts, he would put us up on a step stool, wrap a towel around our necks, and give us both a buzz on Sunday nights. He let me keep a little tuft of hair at the very front.
Having that hair style makes you tough when you have to go to school, and that's how I see these young kids with cancer – they are unbelievably tough! Helping them know that they matter, that they are special, that they are cared for, and that we want to support them through their cancer battles has made being part of Team Breaking Bald so meaningful.
If you are a child or parent of a child with cancer, we care about you. If you are a pediatrician, pediatric nurse
Here's to St. Luke's inspiring young patients and Team Breaking Bald!
, oncologist, or any of the other many professionals (lab technicians, pharmacists, nurse practitioners, phlebotomists, radiation therapists, child life specialists, in-hospital school teachers, nutritionists, and others), and volunteers, God bless you!
And if you are a donor, thank you for the hope that tomorrow, fewer families will go through what too many families have to go through today.
If you missed it and would still like to contribute to this worthy cause, you can do so at http://www.stbaldricks.org/participants/mypage/688935/2014. Thank you to everyone, especially to our inspiring patients.
For more photos from Saturday, see the gallery at http://www.flickr.com/photos/stlukeshealthsystem/sets/72157642159793705/