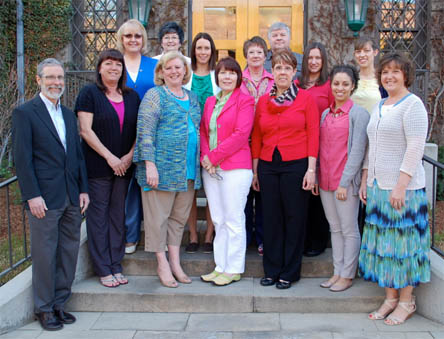 From Fruitland to Boise to Twin Falls, St. Luke's Mountain States Tumor Institute (MSTI) already offers more than 100 research studies to its patients each year. Now, St. Luke's MSTI is reaching out regionally, to expand those opportunities.
St. Luke's MSTI has joined with Seattle's Puget Sound Oncology Consortium and Portland's Western Oncology Research Consortium to seek funding from the National Community Oncology Research Program. No single organization can muster the resources to study the full cancer care spectrum, says St. Luke's MSTI Research Director Dr. Paul Montgomery. With collaboration and federal support, St. Luke's MSTI aims to significantly increase treatment research options and add cancer care delivery research.
"This is the crux of cancer control," Dr. Montgomery explains. Cancer care delivery research evaluates not just the effectiveness of specific treatments but also how social factors, financing systems, organizational structures, health technologies, and individual behaviors affect quality, cost, and the well-being of patients and survivors. This comprehensive research, Dr. Montgomery points out, has as much or more potential to improve outcomes as the testing of new drugs. "Even if we don't win the grant, we want to develop this line of research."
St. Luke's MSTI's current effort builds on a long record of active participation in previous community cancer research. For example, St. Luke's MSTI enrolled close to 4,000 patients in the PLCO (Prostate, Lung, Colorectal, and Ovarian) cancer screening trial—a level of participation that astonished experts from much larger medical centers. St. Luke's MSTI also enrolled large numbers in the NLST (National Lung Screening) trial and the SELECT (Selenium and Vitamin E Cancer] prevention trial.
More than 40 years of cancer research experience have prepared St. Luke's MSTI and the international research community to produce increasingly meaningful results. "Research allows us to accelerate the process of learning from our successes and failures," Dr. Montgomery says. Researchers have learned how to design studies that "tell us exactly how much we have improved. We'll keep learning. And because of that, we'll keep improving cancer care."
What difference can that make? Dr. Montgomery likes to tell the story of a woman who joined a clinical trial of Herceptin in 1994, when the average survival for her type of metastatic breast cancer was 8-9 months. She is still alive today—and remains active with minimal symptoms from her cancer and its treatment.
Research opportunities are available at St. Luke's MSTI not just for the common cancers but also for rare conditions like myelofibrosis. Affecting just 18,000 people yearly in the U.S., the bone marrow disorder qualified for federal "orphan" disease funding. That helped the company Incyte develop Jakafi® (ruxolitinib), the first and still only treatment for myelofibrosis.