St. Luke's Health System opened its newest facility on May 1 in Fruitland, a rural community near the Oregon border.
It is part of St. Luke's commitment to improve the health of people throughout our region, and we have received overwhelming support from the Fruitland community for our presence in the area. Patients who travel hours to get to our facility and the services we provide are grateful to have access to St. Luke's care from very dedicated and caring physicians and staff members.
We plan a series of expansions of services in that area, with a full service, round-the-clock emergency room opening this month followed by the relocation of the Mountain States Tumor Institute to the facility and additional services. Here is a heart-warming report on our impact in Fruitland from my blog editor, Roya Camp:
St. Luke's physicians, nurses, and staff members all share a common mission: To improve the health of people in our region.
But many might not realize that they're helping to preserve a vital and vibrant American way of life at the same time.
By being close to the farms and ranches of some of the region's hardest-working folks, many St. Luke's programs make health care and treatment possible, when the choice might otherwise be to quit work, move out of the area – or more likely, both.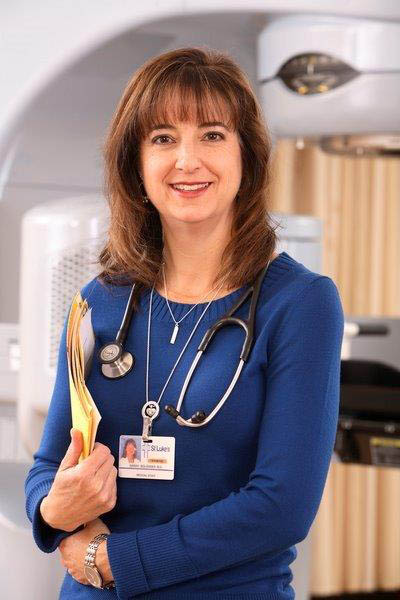 St. Luke's Mountain States Tumor Institute, and the work the MSTI team is doing in Fruitland in close collaboration with the community, shows just how effective community connections can be when it comes to the design of care programs that help people where it matters: close to home.
It's not necessarily what Dr. Sarah Bolender, a radiation oncologist who has MSTI patients in Fruitland and Meridian, expected to be doing when she started serving Fruitland nine years ago.
"I didn't even know how to get there," she recalled. "I started going out there and saw the incredible community, salt-of-the-earth people ..."
The area that the MSTI Fruitland team serves is so large, and so rural, that one of the first things she did to orient herself and to see where patients were coming from was to find and post maps of all the surrounding small towns and communities.
The primary service area encompasses Baker City, 75 miles from Fruitland, and White Bird to the north, but patients are driving from much further out than that, some from as far away as La Grande. People have driven for up to three hours one way for treatments, and that's in good weather, when the roads are clear. Malheur, Baker, Payette, and Washington counties primarily are served by the Fruitland team, but residents in surrounding counties also are patients.
"We serve an area that extends well into eastern Oregon and the rural areas of north Idaho," she said. "It's an outreach office for very rural communities. We brought cancer care to communities that had had none previously."
The challenges that care poses to the residents of Fruitland's service area are significant and many. When it comes to cancer care, for example, patients would otherwise need to travel to Walla Walla, Seattle, Boise, or Portland.
"Pretty much the first thing that people say is, 'Oh my gosh, I'm glad you're here,'" Dr. Bolender said. "It's just that some of them have to drive two and a half hours."
If the logistics are daunting, the demographics are as well. The rural population is also an aging population. The exception: a very hard-working core of ranchers, farmers, and cowboys, who rarely think in terms of wellness visits to the doctor. And by the time some of those folks slow down for medical care, they're in bad shape.
"Their lives are very different. It is tremendously difficult to leave your land and your livestock," Dr. Bolender observes. "You don't take vacations. If you have livestock, you can't leave or move to another town for treatment for six to eight weeks. Your bread and butter is out in the field.
"People come in when they fall off their tractor," she continues. "They come in when they can't work. Preventive medicine is not the mindset. Work is the mindset. The level of acuity of care when they walk in is very different than in, say, Boise."
Dr. Bolender's admiration for the grit and heart of the Fruitland community is evident.
"It's a very rewarding community," she said. "People are very grateful for their care, and for the convenience of their care, and that's driving two hours to see me, and St. Luke's is who they trust. When it comes to cancer care, that's who they look for."
All of which is why she's so determined to ensure that a tight set of services be assembled to serve the farmers and cowboys when they need those kinds of care. And the pieces are falling into place.
St. Luke's Health System opened the new Fruitland Medical Plaza on May 1 and has planned an open house celebration to take place July 31.
The 80,000-square-foot facility is phase one of a two-phase, $55 million project, and includes an urgent care, a walk-in patient clinic, laboratory services, diagnostic and imaging services, and physician offices. On Aug. 1, a full-service, 24-hour emergency department will open.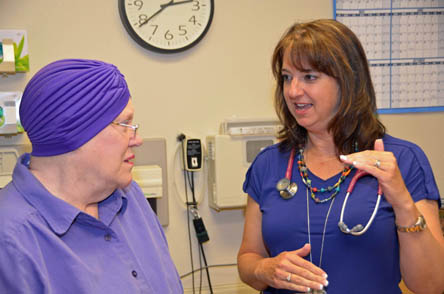 Ewan Trees-Thiesing visits with Dr. Bolender during her regular appointment.
Phase two entails the relocation of MSTI's existing Fruitland clinic and other outpatient services, along with a respite house where patients could stay while undergoing treatment.
"The needs are so great, and some people don't drive," she said.
"People in Idaho get by on very little. Medicine is practiced very efficiently. We are already efficient, but we have huge needs," Dr. Bolender continues. "When you look at the basics of the community, you could say, 'People are doing OK here.' But you might have just a work truck. You don't have two or three cars in the garage. This is not a rich community."
And when it might cost a Weiser-area rancher $25 in gas for one visit, and he's got another 43 trips to the Fruitland clinic left to make, "That's a whole lot of money," Dr. Bolender observes. "When I go to the physicians retreat, I tell them about Fruitland. They have no idea."
Area residents have partnered with St. Luke's to design programs that fit the very distinctive needs and lifestyle of residents, to make sure they don't have to drive the hours and hundreds of miles, through winter conditions, when they are most ill. The relief and convenience of a center where patients can be treated and rest, with a garden and space for classes, will mean residents can stay in the area, Dr. Bolender says, and that's good for the health of the entire community.
And this very small community with the very big heart has pledged to raise 10 percent, $2.5 million, of the costs to put together the center. Steve Dominguez, owner of Steve's Hometown Toyota in Ontario, is doing what he can by donating a new car to be raffled off July 31 as a fund-raiser.
"The community wanted this," Dr. Bolender said. "It's amazing for this community."
Raffle Details
Between now and July 31, St. Luke's Health System is raffling off a 2014 Toyota Corolla to help raise money to improve cancer care in the Fruitland area. The Toyota was donated by Steve's Hometown Toyota in Ontario, Ore. A total of 2,000 tickets at $25 each are being offered.
Tickets can be purchased by calling (208) 381-2123 or at:
St. Luke's Health Foundation, 190 W. Jefferson St., Boise
St. Luke's MSTI Fruitland, 1118 NW 16th St., Fruitland
St. Luke's Fruitland, 1210 NW 16th St., Fruitland
St. Luke's Fruitland Clinic, 1107 NW 11th St., Fruitland
St. Luke's Breast Care Services, 909 NW 16th St., Suite C, Fruitland
The winner will be drawn July 31 during an open house event for the new emergency department at the St. Luke's Fruitland Medical Plaza. You do not need to be present to win.