St. Luke's Wood River's Safety Huddles are Time Well Spent
By Dr. David C. Pate, News and Community
We are working hard to establish a culture of safety. We want everyone to be thinking at all times how to make our employees safe at work and our patients safe in our care, adopting best practices, and becoming a high-reliability organization on our journey to zero harm.
One of those best practices is daily safety huddles. Another is leadership from the top. I am so pleased to see St. Luke's Wood River leading with both! I have asked Suzanne Miller, RN, MSN, senior director of Patient Care Services and Nursing at St. Luke's Wood River, to be my guest blogger today and share what the team has done.
In keeping with St. Luke's Health System's focus on safety and high reliability, St. Luke's Wood River started piloting a daily safety huddle in mid-June.
The daily huddles address important operational and safety issues, and empower caregivers to think safety at all times. They have helped our entire organization at St. Luke's Wood River to understand all the issues that may impact patient safety or employee safety on any given day. Everyone has a voice, clinical and non-clinical.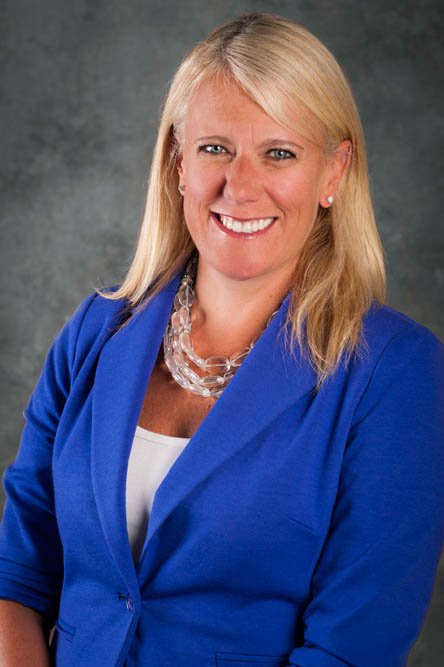 The daily huddles are not intended to problem solve or discuss issues. Individual departments are expected to follow up and report findings or resolutions at future meetings. The goal is to improve communication on patient and employee safety issues and patient care processes and to eliminate serious patient harm or reduce the risk of harm through open, daily communication between departments.
The huddles give leaders and staff members an opportunity to connect immediately when they have urgent issues and to get resolution quickly. In about seven minutes or less, everyone has their finger on the pulse of the organization. And having site Administrator Cody Langbehn lead the huddles has shown everyone that patient and employee safety are top priority at St. Luke's Wood River.
We began to consider the idea after Cody returned from the VHA "Executive Learning Network Series" in Seattle in 2013, wheredaily huddles were discussed as a way to improve patient safety. I worked with Dr. Bart Hill, System chief quality officer, and Cathy Wolf, Wood River manager of patient safety, to gather additional research and discuss with other facilities how to implement the process.
We collaborated with Baptist Easley Hospital in South Carolina, Memorial Hermann in Texas, and Baptist Hospital in Tennessee, and learned that organizations that implemented daily huddles experienced a decrease in email volume, expedited issue resolution, and organization-wide improvement and accountability with respect to patient care and safety. Daily huddles have been endorsed by the Leapfrog Group, the Institute for Healthcare Improvement, and the Robert Wood Johnson Foundation.
The structure of a daily safety huddle includes a specific meeting time and place. Wood River meets at 9:30 a.m. every day next to the Senior Leadership TEAMwork board. This is a visual management tool for staff members to identify, acknowledge, and solve problems that impact patient care and the operations of their areas and departments.
The huddle is coordinated by Cody or the administrator on call, and includes a representative from each department. All departments are expected to report on patient/employee safety issues that occurred in the past 24 hours, patient/employee safety issues that we anticipate occurring over the next 24 hours, and resolution to issues identified at the previous huddle.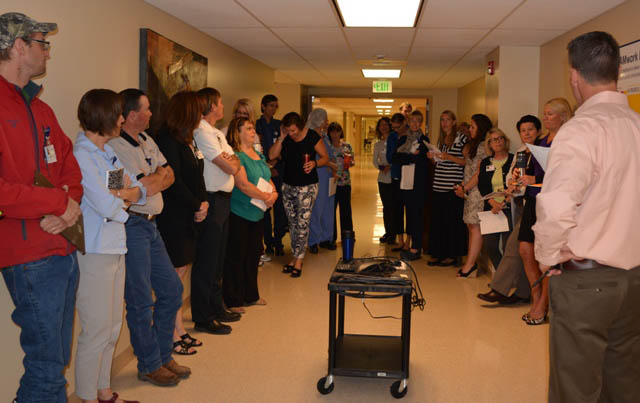 Representatives from all St. Luke's Wood River departments report in during the morning huddle.
In the first week of implementing our huddles, Med/Surg/ICU reported that their electronic intensive care unit (eICU) monitoring was down. The monitor allows critical care intensivists and nurses in the Treasure Valley to monitor our intensive care units and assist in ICU management, building in an additional measure of safety for bedside clinicians.
This immediately alerted the Emergency Department and the Operating Room that there could be an issue in admitting patients to the ICU. Representatives of affected departments could connect immediately to start planning for potential transfers and other considerations. When the eICU monitor was operational several days later, that was reported at the huddle.
Our huddles last no longer than 10 minutes. All managers are expected to attend or send a representative from their department, to arrive on time, and to be brief, concise, and to the point. We follow the same reporting order daily, with 33 departments reporting in.
We are learning so much, and I am finding that time spent in the huddle is the most valuable seven minutes of my day, every day.