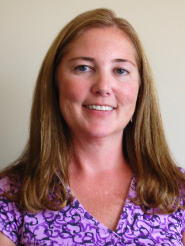 "We're paving the way for our institution and for our nation," Research Professional Investigator Dr. Hilary Flint-Wagner says of research programs launched at St. Luke's in 2014. Half a dozen studies in neurology, orthopedics, and sports medicine will help St. Luke's meet its goals of better health, better care, and lower cost.

St. Luke's Concussion Clinic will lead the way. The clinic is preparing to launch a long-term "Quality of Life" study of children and adults with concussion. Surveys will ask participants about their anger, anxiety, cognition, depression, fatigue, pain, and interaction with peers. The 10-year-plus study will be the first in the nation.
"There are too many unanswered questions for us to be able to offer the care we want to provide," observes clinic Medical Director Dr. Kurt Nilsson. "We have a great opportunity to ask these questions."

Researchers believe the study will fill a void with a much-needed long-term outcome measurement for concussion in pediatric patients. The pediatric population is of critical importance due to long-lasting cognitive impairments and differences yet to be understood between injury and recovery processes between the immature brain and the adult brain. Short-term outcomes, Dr. Nilsson explains, are resolution of symptoms such as headache, vision disturbances, dizziness, nausea, and memory loss. Long-term outcomes are more "executive," such as: Will the child grow up to be able to balance a checkbook, get along with others, and live a happy life? "We need a different tool to measure those potential long-term outcomes."

Concussion patients and their parents, such as Hubble Holley and his mother Kozi Holley, strongly support this research. Hubble has had multiple concussions since he was a young child. He'd like to know what that might mean for his future. There is quite a bit of information about the consequences of high school concussion, but very little about pediatric concussion, Dr. Nilsson says.
Two spine studies, involving partnerships with nationally prominent organizations, also have the potential to impact local and national clinical practice.

St. Luke's is testing a new methodology to assist physicians in timely and accurate diagnosis of common lumbar spine conditions. Through early diagnoses and appropriate interventions, researchers aim to avoid extensive diagnostic tests and unnecessary invasive procedures. Dr. Kenneth Little is the Principal Investigator of this study.


St. Luke's is collaborating with the health education organization Healthwise® to test the feasibility of a "conversation" tool that asks patients questions and shares information about low back pain before their first office visit. The study, led by Dr. Vic Kadyan at St. Luke's and Dr. Martin Gabica at Healthwise, will evaluate how the tool fits into the flow of a clinic and how well it helps patients and physicians make better-informed, shared treatment decisions.

Customer service and satisfaction are also primary concerns at St. Luke's. "We want to provide the best patient experience possible," Flint-Wagner emphasizes. To that end Dr. Howard King in the Boise hospital's Neuroscience Unit (9E) is preparing to test a new Patient Experience Tool (PET) to assess real-time patient satisfaction, with immediate response to the patients' (and their family's and friends') needs. If successful, it could be adopted system-wide.

In the area of community health, St. Luke's is partnering with Olympic Gold Medalist Kristin Armstrong to assess parents' knowledge, attitudes and behaviors toward consumption of sugar-sweetened beverages at recreational sporting events. "It is well-known in the medical world that children are drinking too many sugary drinks, contributing to childhood obesity," Flint-Wagner explains. After initial focus groups, appropriate interventions will be developed to combat this epidemic.

Altogether, Flint-Wagner notes, "we are doing ground-breaking work in research and building our research infrastructure" to benefit patients, the community and the nation.