I am so proud of our physician leaders here at St. Luke's and the fact that they have embraced innovation and new models of care.
Today, we are following up on one innovative new program we informed you about just over a year ago – St. Luke's Perioperative Evaluation Clinic. I asked my blog editor, Roya Camp, to see what the impact of this program has been and how it has been received by patients, surgeons, and nurses. Here is Roya's report:
With a year of experience and data in hand, Dr. Elizabeth "Betsy" Olberding believes St. Luke's Perioperative Evaluation Clinic is doing what the pilot idea was meant to do: See whether working upstream in the continuum of care would make a difference.
The ways in which that has happened are instructive, as St. Luke's moves out in many directions to meet the needs of the region's residents in a variety of settings and at many more points in their health needs.
Dr. Olberding, who serves as medical site manager through St. Luke's Hospitalist Program for the Meridian clinic, and her team have seen more than 1,000 patients since the project began in the fall of 2012.
Her data reflects big wins. Among the patients the clinic worked with before their surgeries, there were:
Fewer complications in total knee patients.
Decreased same-day cancellations.
Very high patient satisfaction, seen when patients who'd worked with the clinic before a first knee replacement sought the clinic's support when returning for the other knee operation.
Shorter anesthesia pre-op times, a critical point for our anesthesia teams and meaningful in that it indicates that patients were in better shape going into their procedures, evaluations were thorough, and needed notes were complete, making chart review smooth and rapid.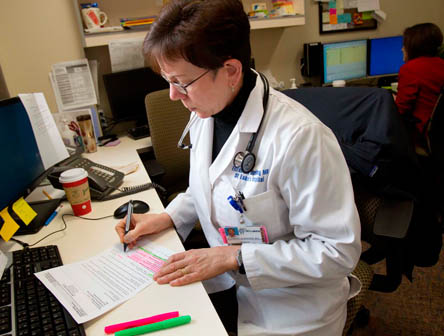 "Any time that you slow things down in pre-op, that's not good," Dr. Olberding observes. "With our work, anesthesia can just look at our patient evaluations instead of having to look at a collection of data on complicated patients and it saves them a fair amount of time in pre-op."
Because by definition most patients are new to the clinic, and many patients are new to St. Luke's and have no prior history with the health system, patient visits are significantly longer than has become routine in health care. Dr. Olberding and the staff often spend up to 90 minutes with a patient, and eight patients is a full load, with a ninth space kept for urgent visits. The clinic is now open four 10-hour days each week, and there are now days where the clinic cannot meet the demand.
Generally speaking, clinic patients have experienced fewer complications, and the clinic has shown benefit through a reduction in same-day surgery cancellations as the result of its work. Tangible cost savings, to patients, payers, and St. Luke's, have to do with the thousands of dollars in resources that aren't utilized every time there's a same-day surgery cancellation, a risk that's run every time a patient shows up without adequate preparation, and decreases in post-operative wound infections, which can otherwise be a high-cost complication.
"Some of these people, if they had shown up in pre-op with our evaluation, they would have been canceled," Dr. Olberding said.
There have been many other, less visible benefits to the clinic, some very unanticipated.
For example, there are the "curbside consultations" the clinic's Meridian location has made possible. Dr. Olberding and her team support St. Luke's nursing colleagues through frequent consultations and coaching regarding medication management, abnormal electrocardiogram results, and other questions and needs that arise on a daily basis.
And there are the dozens of near-misses and potentially significant health crises that Dr. Olberding and the team have averted, including cases of undiagnosed atrial fibrillation, a case of deep vein thrombosis, a patient who presented in supraventricular tachycardia and another in which a lung mass was turned up, and many instances of undiagnosed diabetes and severe hypertension.
So what's next for the clinic?
Dr. Olberding would like to be able to show that the team's work also reduces patients' lengths of stay in the hospital, and to know more about what happens with clinic patients at the far end of the surgical process. The clinic is playing a critical role in St. Luke's care continuum work and is facilitating better connections when it comes to post-operative care, and Dr. Olberding would like even more visibility into outcomes at that end of the process.
"We're just trying to close that loop and make sure they get that follow-up," she said.
If the schedule continues to fill up as it has been, the clinic will need to go to a fifth day, and quite possibly, a second location.
"My hopes are that we can expand this and get more surgical patients into this process," Dr. Olberding said. "I think we need to expand this over the next year going forward."