MSTI eWhiteboard is a Triple Aim Hit
By Dr. David C. Pate, News and Community
The journey to transform health care is a long and difficult one, but I have never doubted that St. Luke's would be successful. I think you need several ingredients to be successful – inspired leadership committed to a vision, a governing board that is well educated and committed to supporting management and the organization through challenging times, aligned physicians who are committed to new care and business models, an engaged community, strong communication internally and externally, and a culture of innovation. I think we have all the ingredients.
Today, I have asked blog editor Roya Camp to write about St. Luke's Mountain States Tumor Institute's electronic whiteboard, an example of innovation originating at our Twin Falls site. We visited MSTI in Twin Falls while I was there with my fall forums.
I had heard how two St. Luke's pharmacists and one of our information technology staff members had confronted a problem and come up with an innovative solution. The problem? The infusion pharmacy was not within sight of the nurses caring for infusion patients. Communication was through multiple phone calls that would cause disruptions and therefore increase the risk for errors in a very high-risk area of our operations and through wasted trips by nurses, who had to move back and forth repeatedly between the infusion station and the pharmacy.
These pharmacists and the supporting information technologist realized that there was an opportunity to create exceptional patient experiences and achieve exceptional outcomes through TEAMwork, St. Luke's lean methodology. Their solution? An electronic whiteboard incorporating lean principles.
To me, the key to success in healthcare innovation is that it must start at the level where staff members intersect with patient care. It must arise out of solving real-world problems. And the best solutions will come from multidisciplinary teams working together to utilize technology in new ways. I think you'll agree that this MSTI innovation is a success on all those fronts.
Here's how I determined it was a success: I asked the nurses, and each one told me that it saved them time, effort, and a lot of unproductive time away from their patients. We call that waste.
Better care, safer care, more efficiently provided, with more time spent with patients – a resounding success. Read on.
Exceptional experiences and outcomes, the two goals St. Luke's is organizing its efforts around, start as great ideas in all corners of our organization.
In the case of breakthrough communications between the clinicians taking care of some of our sickest patients, that corner belongs to pharmacists Dave Green and Debbi Burr.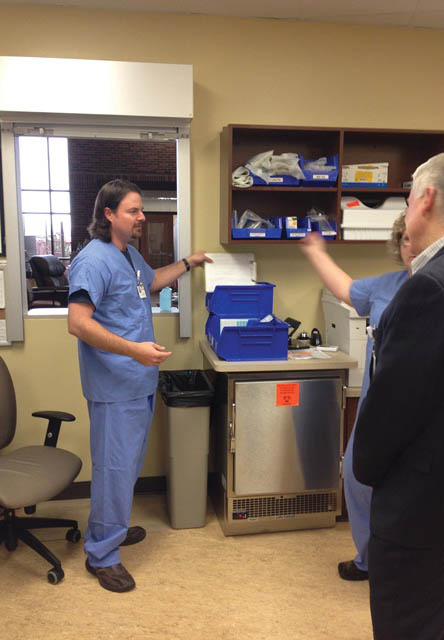 The two are with Mountain States Tumor Institute at St. Luke's Magic Valley, and have figured out a highly effective mode of ensuring that all those involved with the patients under their care stay up to speed throughout the chemotherapy treatment process.
Oncology Pharmacist Dave Green explains how the electronic whiteboard has replaced use of a clipboard and paper records.
Green, Burr, and their colleagues need to prioritize tasks and communicate effectively while lots of patients and clinicians are flowing through their work areas. Frequent interruptions are common and expected, but raise the risk of error and the amount of waste of time and resources.
At various times, staff members previously had used a conventional whiteboard and marker, posted near the pharmacy window, or notes on paper to keep track of chemotherapy treatments. Nurses would make multiple trips from their desk space to the pharmacy to see if pre-medications were ready, the chemo was ready, and to attend to other parts of the process. The pharmacists would wait for the nurses to come by or would call the nurses for information they needed before they could prepare or distribute the chemotherapy.
Green envisioned a better system, one that would reduce waste and improve efficiency and care. The idea: an electronic whiteboard that would allow the pharmacists to communicate more readily with the nurses who were giving chemo.
Courtney Gard of information technology helped the team develop the idea, which also incorporated visual management and efficiency lean principles, adopted at St. Luke's as TEAMwork. Green and Burr took charge of education and designed metrics to measure the success of the new electronic whiteboard.
The system, which is accessible to staff members via computers in the chemotherapy infusion suites and in the pharmacy, has dramatically reduced work interruptions and the possibility of errors caused when work is interrupted since the team started using it this spring.
Staff members are easily able to see which patients are having treatments and when, get information about the status of premedication and lab work, and track medications throughout the process. The nearly two-dozen nurses, pharmacists, and pharmacy technicians who are involved at various stages of the process can update information and track the progression of medications and patients throughout treatments.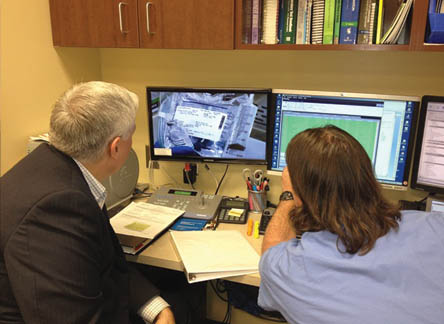 The program is dynamic and updates are taken up and visible immediately. Color-coded status tags and open notes fields have made the program user-friendly and provided quick access points to need-to-know information.
And because the treatment process for MSTI's patients occurs in several stages, with a set of pre-medications preceding the chemo treatments that also must be prepared and delivered appropriately, the new system is building in new levels of quality and safety assurance. The multiple checks of all lab work, preparations, and timing are made much more visible and timely.
Here's what Melissa W. Fenderson R.N., Twin Falls MSTI director, had to say: "The nurses and pharmacists LOVE IT! They implemented the board on a VERY busy day, and the nurses reported immediate time savings and step savings.
"This new whiteboard saves nurses steps, saves pharmacists and nurses time, and has provided a clear means of communication that allows the staff more time for the patients."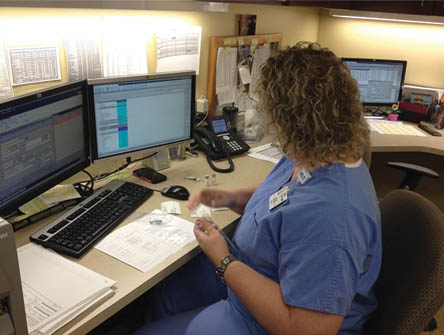 MSTI pharmacist Debbi Burr dispenses for a patient. Burr and Dave Green are credited for launching the effort to improve the communications process that led to the electronic whiteboard.
As with several of St. Luke's new clinics that focus on population health, increasing use of our electronic health records, our Project Zero initiative targeting surgical site infections, and many other initiatives, the MSTI team's identification of an opportunity goes to the heart of our Triple Aim of better health, better care, and lower cost.
"In the end, it makes more efficient patient care," Fenderson said, adding that the complexities and expenses of oncology treatments make it important that waste of all resources be minimized.
"We can know the medication is ready, and that kind of communication's very crucial," she said. "It saves nurses time, it saves pharmacists time, it's safer, because there's an up-to-date record …
"It improved care immediately," Fenderson said.
Before and after staff surveys have shown that users of the new system are pleased with its functions, and other MSTI sites now are looking to adopt the approach.