St. Luke's Health System is transforming health care. Those are not just fancy words. We are putting transformation into action, and because of our actions, we are becoming a national leader. St. Luke's is already the first and only federally designated Accountable Care Organization in Idaho. We also received a grant from the Centers for Medicare and Medicaid for our innovative electronic intensive care unit program.
Now, we're one of 25 clinical sites selected as part of another CMS grant that will focus on care coordination.
We had already created our CoPartner program to coordinate care and manage transitions of care for the medically complex patients we serve under arrangements with payers that are focused on value, rather than volume. The grant was awarded to the prestigious Pacific Business Group on Health (PBGH), and through our participation with PBGH we will continue to build upon this experience and share lessons learned with other sites.
Here is SELECT Medical Network Communications Coordinator Chereen Langrill's report.
Imagine having a personal health advocate with the combined qualities of a caring relative and savvy health educator.
In St. Luke's Health System's CoPartner program, that person is known as a nurse care coordinator.
CoPartner serves people with more complicated health needs and places a strong emphasis on individualized health plans, following the guidelines of the Intensive Outpatient Care Program (IOCP).
CoPartner is part of a large study of IOCPs launched by a California-based non-profit organization that aims to empower patients and help them obtain better care to manage their complex medical cases. St. Luke's is one of 25 clinical sites selected to be part of this effort through the Pacific Business Group on Health (PBGH).
The program, which continues through July 2015, is funded by a $19 million Centers for Medicare and Medicaid Services (CMMS) Innovation Grant. The grant money will help fund training for care coordinators at the clinical sites where the program is in place and will provide a per-member, per-month fee for patients enrolled in the Medicare Shared Savings Program or Medicare Advantage. PBGH is working with health systems like St. Luke's to enroll patients in the program.
Here's why St. Luke's is a good fit with PBGH:
A proven record of improving quality for patients.
The number of medically complex patients receiving care.
Dedication to innovation and to transform patient care.
The ongoing CoPartner program.
Under the stewardship of Dr. Stephen Montamat and Michelle Spaulding, RN, the program recruits patients who have been identified because of the complexity of their cases. Once a patient has been identified as a candidate in conjunction with their primary care physician, they receive a phone call from the care coordination team inviting them to participate. There is no cost to join the program, and the initial office visit may be at no additional cost, depending on the payer.
Nurse care coordinator Betty Hong-Hollar meets with Joyce Bauer and her daughter, JoAnn Kerr, to enroll Joyce in St. Luke's CoPartner program. Joyce is also participating in the CMS grant study with the Pacific Business Group on Health.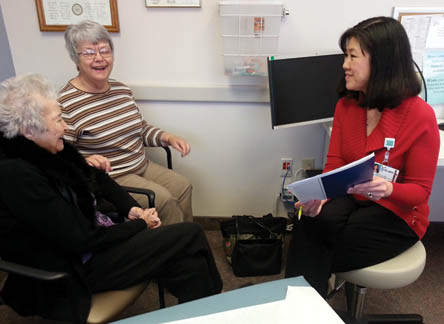 The patient is then assigned to their clinic's nurse care coordinator and a patient-centered action plan is developed, based on the patient's goals. When the plan is put together, the nurse care coordinator aims to bridge the gap between the plan and the patient's abilities. Nearly a dozen St. Luke's nurse care coordinators have been trained to support the program.
There are 369 CoPartner patients, and 216 of them are also in the PBGH grant program. Of the total, 14 receive care within St. Luke's East Region, which recently started enrolling patients in the CoPartner/PBGH services.
The goal is to equip patients with the skills needed to become their own healthcare advocates. Program "graduates" are armed with the tools to know the right questions to ask and how to ask them.
Patients with complex medical cases face many challenges. They are often managing multiple diagnosed illnesses, might be seeing several different providers, and often have multiple prescriptions. The combination can easily lead to confusion and mistakes, and medication reconciliation is a particular concern for this population. Having a trusting relationship with a nurse care coordinator allows the time and expertise to address potential pitfalls.
In addition to empowering patients to serve as their own health advocates, this service also is intended to improve the quality of care, create a savings on health care claim costs, and reduce hospital readmissions.
"We want to deliver care coordination to where the patient is located," Dr. Montamat said.