Strength Training for Body and Soul During Cancer Treatment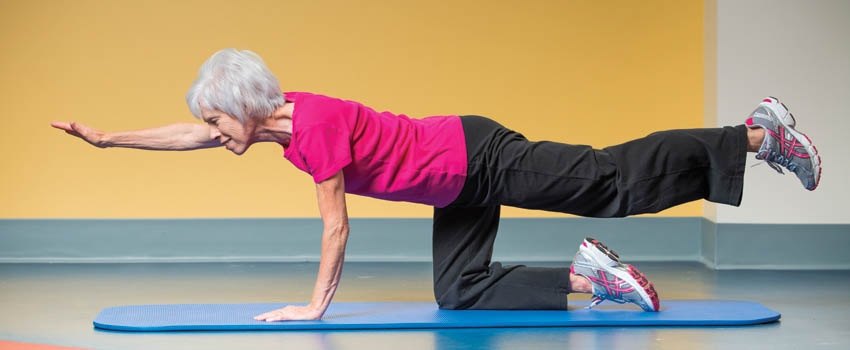 When Anne Harris was diagnosed with breast cancer, she put it in God's hands. But she also knew she had to stay strong physically. So she prayed, but she also began lifting weights.

Anne had always exercised, but at age 71 and only 100 pounds, she was ready to increase her muscle mass. "I knew the cancer would sap some of my weight," she said, "and I wanted to build up strength."

As part of LiveStrong, she started the aquatic program at the YMCA. And she added weight lifting to her exercise plan, which already included hiking, cross country skiing, and snowshoeing. Through her trainer, Ben Stein, with St. Luke's MSTI Integrative Medicine, Anne had a plan personalized for her specific condition. "I got help for each exercise," she said, "to make sure I was doing them correctly."

Anne also saw a St. Luke's MSTI dietitian, Amy Mercer, who advised her to add more good fats to her diet to help build muscle. Amy was also available by phone to answer Anne's questions.

The weight training and diet advice paid off on Anne's mountain climbing trip in Wyoming. "I didn't feel any different from when I climbed it the year before, because I have more muscle mass," she said at the time. "Integrative medicine makes possible a way to deal with cancer. If you don't exercise or take advantage of these programs, you don't have as good a quality of life."

Anne passed away in 2013, going on to be with the God she so loved. But during her cancer experience and the last years of her life, the mother of three, grandmother of five, and wife of a pastor was not thinking only of her own well-being. Through God's guidance, Anne said, she started "God's Cancer Sisters," an email prayer and support group. "The encouragement and activity can turn a person around, and can ease depression," she said. "I'm thankful for the cancer as it has drawn me closer to my God. God is using it to help me meet others with needs. It's not about me, and it's not about the cancer—it's about Almighty God."