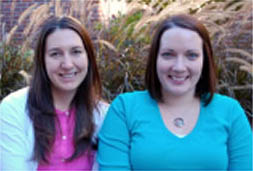 This medical research study began with a wry observation by nurses in the general surgical unit at St. Luke's hospital in Boise. "We looked around and noticed many patients, who couldn't eat or drink anything after surgery, watching cooking shows on TV," Stacy Tucker, RN remembers with a smile.
That led her and research partner Erica Yager, RN to question if the people who watched cooking shows would recover bowel function more quickly after surgery than those who didn't. Familiar with the health and sports research documenting the power of visualization in healing and performance, they wondered if TV viewing could have positive effects. The St. Luke's Nursing Research Fellowship program paired them with Boise State University researcher Leonie Sutherland, RN, PhD to design a study around the question.
When asked to participate in the research, patients had mixed reactions. "Some of them said, 'Wow, that's ingenious,'" Yager reports. "Others thought it was pretty crazy."

Whatever their thoughts, most patients were supportive. By the end of 2012, a total of 94 individuals had completed a questionnaire about their post-surgery TV viewing choices. (About half watched cooking shows and half didn't.) After the patients were discharged, Yager and Tucker gathered the medical records for bowel function indicators, such as the return of appetite and "grumble" (bowel sounds).

Cooking shows, it turned out, were associated with a quicker return of grumble. The percent of patients for whom grumble returned on the day of, or the day after surgery, was significantly higher among those who watched cooking shows than among those who did not. There also appeared to be a trend, although not statistically significant, toward an early return of appetite among those who watched the shows.

Yager, a clinical nurse, is pleased to have identified a possible independent intervention that nurses can employ on surgical units. Tucker, a former clinical nurse now with St. Luke's Center for Learning and Development, explains that early return of bowel function after surgery advances recovery and prevents complications.

Nurses and other members of the care team have been eagerly awaiting results, hoping to help patients who are slow to recover after surgery. Surgical staff members have been asking Yager and Tucker, "We've tried everything. Should we try putting on cooking shows?"

Yager and Tucker presented their study results at their unit staff meeting and plan to submit a paper to the American Academy of Medical-Surgical Nurses.