Our best lessons come from our own patients. I also believe that answers to many of our most challenging problems come from technology. Not just new technology, but using existing technology in new ways.
Through a very serious, very frightening illness, one St. Luke's patient and supporter tapped into his creativity to see how widely available, tablet technology could be used in an innovative way to foster patient-caregiver communication.
Dave Behunin is helping us make our care more patient-centered and more engaging for patients. He is also thinking of new ways for us to use this simple and commonplace technology to achieve the Triple Aim of better health, better care, and lower costs.
Here is a report from my blog editor, Roya Camp, about Dave's near-death experience and the innovative solution that came out of it.
St. Luke's Health System is a learning organization, which means that we like to take the best wisdom we can find from all sources, trade great ideas with our community partners, and ensure St. Luke's team members continue to grow and develop individually.
We've picked up best practices from the technology sector, among others. And we're constantly learning from our patients.
One of those sources of inspiration is Dave Behunin, a 50-year-old Boise resident who credits St. Luke's for saving his life – repeatedly. His experiences as a patient and tech user are helping us to envision how we can ensure an exceptional experience for St. Luke's patients when it comes to information and communications. We're constantly weighing the value of various technologies and the benefit of telemedicine, and having the patient perspective as we assess these possibilities is critical in achieving our aims.
In March, Dave walked into the emergency room at St. Luke's Meridian. The staff had expected to see him wheeled in on a gurney; his lab results showed that he had pneumonia and sepsis, a life-threatening and often fatal blood infection.
It was a good thing that he came in when he did. Within two hours, Dave went into cardiac arrest. He's still trying to piece together the hours that followed; tests showed cardiac failure levels over a three-day period, leaving him wondering just how many heart attacks he had.
Dave's comeback hasn't been without its challenges. He's spent months in cardiac rehabilitation, lost more than 50 lbs., changed his diet, and built a workout routine.
But Dave's perspective, interest, and energy throughout his experience have just as much to do with his progress – and ours, quite frankly – as his physical improvements and recovery.
While he was a patient in the Meridian intensive care unit, he'd wanted to ask questions about what was happening, about his treatment, about all aspects of his care and condition. But he couldn't speak, connected as he was to a ventilator and medicated by pain narcotics.
His solution: a tablet computer, his own device that he happened to have with him at the hospital. He knew he was on to something when one of his doctors, watching him typing in questions, remarked, "That's genius."
"Lying there, intubated, I've got the best technology to keep human life going, yet try to communicate," he said. "It was pencil and paper."
Dave found the device so helpful to him as a patient that he's given two HP tablets to St. Luke's for the use of other patients – and opened our eyes to the ways in which patients use technology in their own health journeys and ways we can support them as they move through some of these very difficult, very frightening experiences.
"The reality of it is, being able to communicate with the doctors, the nurses, the respiratory therapists, gave me a distinct advantage that others may not have had," he said.
Tablet computers are easy, relatively inexpensive technology that can be loaded with applications, many of them free downloads, that can help patients assess pain, help them communicate with their physicians, and help them navigate numerous aspects of the hospital and other care environments. It's a far cry from some of the more limited ways in which tablets have been used in healthcare environments, for example, as game boxes for pediatric patients.
Dave notes that his care for this past year will be well into the six-digit range, while a tablet computer loaded with basic healthcare software could cost less than $200, and points out that that expense is less than even one duplicated test with a high-risk patient.
"It's cheap, compared to what the good is," he said. "Once you get these in people's hands, it's easy."
Dave can imagine a time when St. Luke's and other health systems send patients home with a tablet loaded with off-the-shelf, simple software that supports the patient/physician partnership, making the transfer of information as fast as the speed of Internet connectivity and as accurate as the device's camera function, for example.
"This tablet would work as a medical device," he said. "We're on the tip of the iceberg with this."
Applications might allow patients to monitor their own health in some respects, might not need to be transmitted electronically, and wouldn't necessarily entail privacy considerations for simple uses. Other uses, such as access to electronic health records, are just as easy but need additional precautions for safety and security.
We're grateful to Dave for his generosity, and using his donated HP Slate tablets in Meridian and Boise.
But he's generously sharing his perspective with us as well. You see, Dave's a HP project manager. He's been with the tech company for 25 years, and knows how consumer technology is used by average people, throughout their days and throughout their lives.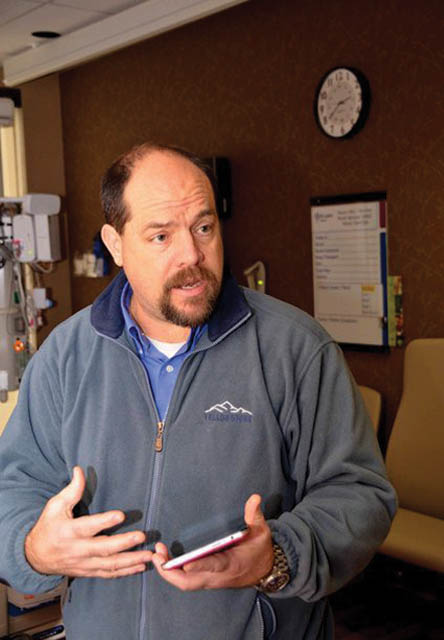 He's also a tech user, and not a particularly unusual user at that. He represents for us what many of our patients, especially Baby Boomers, have come to assume, expect, and demand when it comes to personal technology and tech-based resources. He's one of a growing number of patients who live plugged in, and use their electronics pretty continuously to do many tasks and functions.
"With that device, I can communicate with whoever I want to communicate," he said. "I hadn't even thought of it, but being able to communicate is priceless."
Dave's experience this past year has changed his view of things, and he's been encouraged to get active in heightening awareness of the potential that common technology has in healthcare settings. It's sobering for him to remember a close colleague who died of a heart attack four years ago, a tragedy that might have been prevented by use of such technology.
Dave was inspired to help us by the help he received from us, and is showing us the many ways patients view and use consumer technology.
"The staff, every one of them from the cleaning lady to the surgeons, they were just awesome. I have nothing but positive things to say about my spring adventure," he said. "This is one thing I can do.
"I was dead, and I knew I was dead. It took a guy to die several times to figure out it's more than just a game."