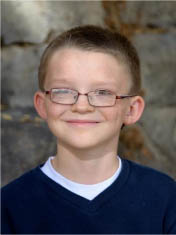 Before Hunter Barlow's research study, and the studies that preceded it, children with "lazy eye" (amblyopia) had to wear their eye patches to school and most of the day. The kids resisted. The parents persisted, because they understood the patches could prevent permanent loss of vision in the blurry eye.
"I mostly remember not wanting to wear it," Hunter says of his eye patch when he was 4-5 years old. Now age 9, he is surprised to learn that his participation in the study may help reduce patching time for many kids in the future.
The vision in his "lazy" eye strengthened and improved when his "good" eye was covered with a patch just two hours per day. That success was repeated across the country in this national, multi-center study. Official results are scheduled for publication in the journal Ophthalmology later this year.
"It worked really well," Hunter's mother, Julie Barlow, recalls. "It was really nice to see that a couple of hours a day of patching would do as well as 6 hours a day."

The research study in Boise was a big commitment for the family from Twin Falls. They had to drive the 260-mile round trip every 6 weeks for study visits. "But I look back at that and almost miss it," Julie says. The family played games, went to the zoo, Discovery Center, and Boise restaurants and museums. "We enjoyed that time together."
The staff at St. Luke's Children's Ophthalmology went out of their way to make it easy for the family, Julie adds. They scheduled them for the last appointment on Fridays, giving the Barlows time to drive the distance after Hunter's dad, McKay, got off work. "They told us what was going on and answered all our questions. We love that office. They are so good with kids."
The study also provided free eyeglasses for Hunter and supplied boxes and boxes of patches for a busy, active boy. That helped, when patches were lost on the trampoline or when Hunter preferred certain "cool" designs.
Hunter has made the most of his improved vision. He was reading Harry Potter books even before he started kindergarten. He is now in an accelerated reading program and is top of his class in math. His favorite subject, he says, is science. He skis and plays baseball and soccer.
"It was fun to help," Julie Barlow says about the whole research experience. "I like to hope that other children and parents will benefit."