3 Mouth-Watering (and Healthy) Summer Recipes From a St. Luke's Executive Chef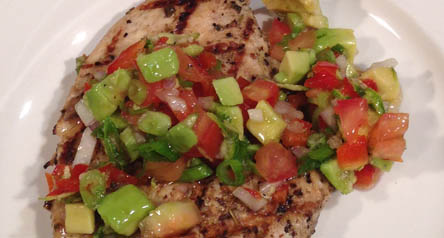 Flame-Broiled Citrus Chicken with Avocado Salsa (serves 4)
Ingredients for Flame-Broiled Citrus Chicken
4-4oz S

kinless chicken breasts

Marinade:
2T Olive oil
1 T Garlic
1 T Fine chopped oregano
1 tsp. lemon pepper
½ fresh lemon zest and juice
½ fresh lime zest and juice
Mix all ingredients together. Add chicken (thawed) and marinate in refrigerator for at least 3 hours (overnight is OK).
Pre-heat your barbecue. Remove chicken from marinade and broil for 2 minutes. Rotate chicken about 45 degrees and broil 2 more minutes. Turn over and repeat process. Cook until internal temperature is 165 degrees. Remove from barbecue, top with the avocado salsa and serve.
Ingredients for Avocado Salsa
1 T. Honey
1 T Chopped shallots
2 T Diced scallions
1 Lime
1 tsp. Chopped garlic
¼ tsp. Salt
¼ tsp. Pepper
2 T Olive oil
1 Avocado (1/4-inch dice)
1 Ripe tomato (1/4-inch dice)
In a bowl, add all ingredients. Zest and grate the limes. Then, squeeze out the juice.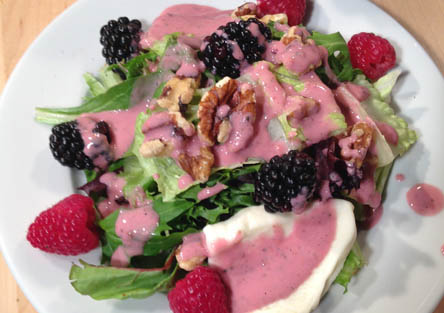 Wild Berry Caprese Salad with Chobani Raspberry Vinaigrette (serves 4)
Ingredients
8 oz. Wild garden greens (spring mix)
2 oz. Walnuts
16 Raspberries
16 Blackberries
4 oz. Fresh mozzarella cheese
Divide all ingredients out onto 4 plates and top with raspberry vinaigrette.
Chobani Raspberry Vinaigrette
12 oz. Chobani raspberry yogurt
8 Raspberries
8 Blackberries
1 oz. Apple cider vinegar
2 oz. Orange juice
1 tsp. Fresh basil
Place all ingredients into a blender and blend well (about 30 seconds).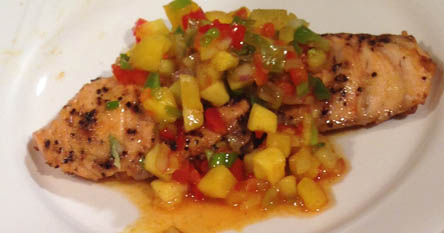 Ginger Encrusted Salmon
4-4 oz. salmon fillets
1 T Crushed peppercorns
2 tsp. Grated ginger
1 oz. Olive oil
Cut fillet of salmon into 4-ounce pieces. Peel fresh ginger and place in blender with ½-ounce olive oil and blend until coarsely chopped. (Note: you can use a store-bought jar product, which has ginger chopped and ready to go.) Rub the salmon with the ginger and lightly dust with crushed peppercorns.
Place a small amount of the olive oil in a sauté pan on medium heat, then sear the salmon for 15 seconds on both sides. Remove from pan and put on oven-ready cookie sheet.
Pre-heat oven to 400 degrees. Bake salmon for 8-10 minutes. Internal temperature of salmon should reach a minimum of 145 degrees. Be careful not to overcook, as salmon can quickly dry out.
Top with mango chutney and serve.
Mango Chutney
Mango (1 cup diced)
Pineapple (1 cup diced)
Red pepper (1/4 cup diced)
Green onion (1/4 cup diced)
Red onion (1/4 cup)
Jalapeno (1, diced)
Brown sugar (2 oz.)
Pineapple juice (2 oz.)
Cayenne pepper (pinch)
Curry powder (pinch)
Olive oil (1 T)
Saute red pepper, red onion and jalapeno in olive oil for about a minute. Add the rest of the ingredients and continue to sauté just until warm.