Cowboy is Back in the Saddle after Severe Stroke
By Chereen Langrill, Health and Wellness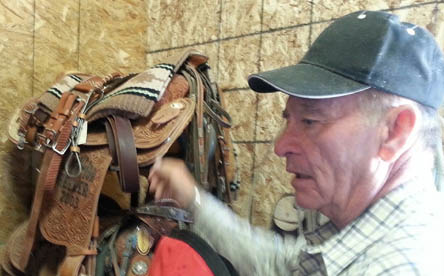 Lonnie Wright has won hundreds of saddles during his professional rodeo days, and continues to compete after recovering from a stroke.
Lonnie Wright wasn't supposed to have a stroke.
Wright, who lives in Caldwell, is in his mid-70s and has a rodeo career that spans more than five decades. He still actively competes in – and wins – team roping competitions throughout the country.
He was more likely to face a life-threatening injury bull riding or being thrown from a horse, but it was a stroke that nearly took Wright down in late May when he was at a rodeo in New Plymouth to watch his wife, Barbara Wright, compete in barrel racing.
Lonnie was on his way to the car to get the camera so he could take pictures of Barbara while she ran barrels. He stopped at the bathroom before heading to the car, and about 15 minutes later, Barbara began to worry.
Lonnie was having a stroke and he knew it. His left side went limp and he fell, breaking his leg. Although he couldn't stand or raise himself up, he used all his strength to pull himself across the floor to reach the door.
"I knew I had to get help fast," Lonnie said.
Lonnie reached the door, but he couldn't hold it open to pull himself through. Someone saw his boot through the doorway and began to call for help.
Barbara went to the car to look for Lonnie. Just before she reached it, she heard people shouting.
"I knew it was him," Barbara said. "I just turned around and started running back to the building."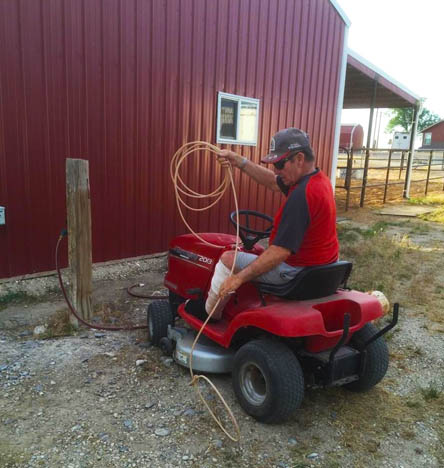 Kayla Ingram heard the shouting, too. Ingram, a nursing director at St. Luke's Meridian, was also in New Plymouth to participate in the barrel racing competition.
She ran to Lonnie's side to help, quickly explaining that his best chance for fast treatment would be at St. Luke's Fruitland Medical Plaza.
While the ambulance transported Lonnie to Fruitland, she called the Fruitland emergency department to prepare the team. The clot buster was administered within 39 minutes.
The teamwork involved in Lonnie's treatment and recovery deeply touched the Wrights. But that initial contact with Kayla is something they'll never forget.
"Kayla was the key ingredient on that day," Lonnie said. "That whole day just went perfect."
Lonnie was transported by air to Boise for neurointervention (surgical treatment from within the blood vessels to remove the clot). Dr. John Perl performed the surgery, and called Barbara twice that day to keep her updated and to reassure her.
"I think Dr. Perl did a terrific job," Lonnie said. "I'm really high on that guy."
Dr. Perl's first call to Barbara was to ask if Lonnie was headed to Boise. He called again after the surgery to tell Barbara that the procedure went well and that her husband was doing just fine. Then he reminded her to drive safely as she drove from Canyon County to Boise.
Dr. Perl was equally attentive throughout Lonnie's recovery at St. Luke's, the couple said.
"He always took the time to visit our room and talk to us," Barbara said. "And that means something."
Lonnie also had a stroke in February, while the couple was in Arizona for the winter. Fortunately, Lonnie's first stroke was mild and he recovered quickly.
The stroke in May was significant, according to Dr. Perl. The National Institutes of Health Stroke Scale (NIH Stroke Scale) is used to quantify the severity of a stroke; Lonnie's score was initially 18 (moderate to severe), and the next day his score was two (zero indicates no stroke symptoms).
"I could have been paralyzed," Lonnie said.
Dr. Perl agreed that the fast action changed Lonnie's outcome. Getting help quickly is critical when it comes to stroke.
"He would be paralyzed, not be able to understand, not be able to talk," he said. "He would not have a good quality of life."
He credits the entire care team for Lonnie's success: Ingram, the transport team, the Fruitland emergency department team, and the team in Boise.
"Ultimately it was the coordination of this effort that led to this outcome," Dr. Perl said.
Lonnie doesn't have high cholesterol and still isn't sure why he had a blood clot that caused the stroke in May. He now takes a blood thinner and light statin.
The broken leg caused by the fall required surgery, forcing Lonnie to take time away from riding and training. But he didn't let the injury turn him into a couch potato. He practiced roping on his riding lawnmower instead of his horse.
When his cast was removed on July 22, he immediately began riding again. He will compete in team roping events at five rodeos in Nevada the week of Aug. 3, and he plans to compete in Century Roping at Caldwell Night Rodeo in mid-August, where he won in the same category last year.
Barbara said the couple told Lonnie's medical team that he needed to be back on his horse by Aug. 1.
"This is his life," Barbara said. "This is what he lives for."
Lonnie's awards are too numerous to list. He was inducted into the Idaho Rodeo Hall of Fame in 2008. He won his first bull riding competition when he was 13 years old. He has captured multiple wins at the Wild Horse Race. He has countless wins in team roping, calf roping, bull riding and as a champion heeler. Barbara is also a top team roper and barrel racer.
Barbara always thought she would be the one who would have a stroke. Her mother and grandmother both died from strokes, and she struggles with high cholesterol, even though she does her best to follow the prevention advice she receives from her doctor.
"It's the silent killer, but it doesn't have to be," Barbara said.