Faced for the first time in our history with the threat of Ebola on U.S. soil, American hospitals and healthcare systems rose to the occasion.
For St. Luke's Health System, I asked Dr. Bart Hill, vice president and chief quality officer, to take the lead in our preparedness and charged two other System executives, Maureen O'Keeffe, vice president and chief human resources officer, and Christy Neuhoff, vice president and chief legal officer, to work with Dr. Hill to address the myriad issues that arise in preparing an organization for the challenge.
We have learned from our own work and from the experiences of others, and we are grateful that our friends at Texas Health Resources were so willing to share all that they learned in dealing with the first patient to ever be diagnosed in the U.S.
I have asked Roya Camp, my blog editor, to serve as today's guest blogger and share with you her interview of Dr. Hill regarding what we learned from our own preparations.
A common source of information, mechanisms for people to ask questions, leveraging technology, and the right participants being accountable and following through.
These four elements have been critically important to St. Luke's Health System's ongoing Ebola readiness effort.
Four cases of Ebola have been identified in the United States, all within a one-month period last fall. Of those, two were health professionals caring for the first U.S. Ebola patient. All but the first patient have survived.
The cluster of domestic cases caused hospitals and healthcare systems across the country to closely examine their capability to safely care for an Ebola patient, and St. Luke's was no different. Dr. Bart Hill, St. Luke's vice president and chief quality officer, was at the center of St. Luke's Ebola readiness work from the beginning. He recently shared lessons St. Luke's has learned and continues to learn through the Ebola readiness work.
The importance of taking a step back. St. Luke's is a relatively new health system, and the Ebola readiness effort has shown the value of systemwide plans and planning.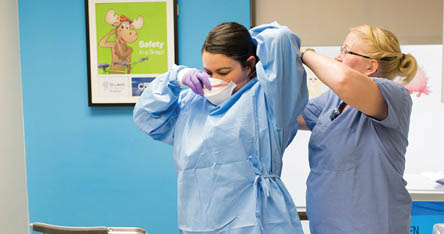 "Individual units and locations initially were addressing Ebola preparation separately, and we quickly found we needed to address it in standardized fashion," Dr. Hill said. "There was constantly changing information coming from the CDC (Centers for Disease Control and Prevention). Very quickly we saw sites addressing it differently because of the uniqueness of their environment.
"We had to develop a coordinated process of communication and interaction across all the different sites, and we leveraged our learning from the incident command structure."
St. Luke's has used the incident command structure historically for a variety of scenarios and for training, but had not implemented it systemwide, across multiple hospitals and hundreds of clinics.
The importance of a central information repository and version control. The pace at which information was pouring out of the CDC, and at which information was changing, showed the need for tight management of details so as to answer questions without inundating staff members and to clarify important points without compounding confusion.
Early on, St. Luke's set up a web page to collect and share information, and dated documents for the purpose of ensuring that interested users could be confident they had the latest details. Links to the CDC and other resources were added and updated as time went on.
Just as important and helpful was a dedicated email address where staff members could direct Ebola-related questions. That address had received about 300 questions as of the second half of January, roughly three months after it was established.
The benefits of the dedicated address went both ways; most questions were answered individually, but the function also served as a feedback loop, allowing Dr. Hill and the Ebola work group to ascertain what information was best included in data sheets for wider distribution.
Information management also entailed an all-staff online training module and layered communications, staged and deployed as needed.
The importance of the right coordination structure. "Right" had everything to do with the number of participants and the expertise those specific participants brought to the table.
In the end, the "right" group turned out to be about a dozen people, coordinated under one leader.
"The group worked very effectively with an unproven process," Dr. Hill noted. "There was a high level of trust in the organizing group, a burning platform, and accountability with very frequent meetings."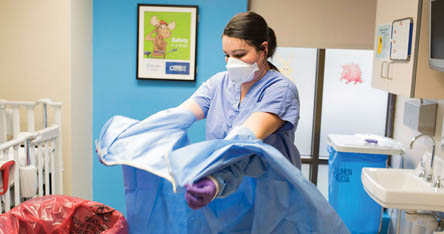 The Ebola preparations have helped to accelerate St. Luke's evolution as a health system in a variety of ways having to do with communications and standardized and centralized planning and logistics. Individual locations saw the value and benefit of that effort.
"When something has implications for multiple sites, there needs to be that overarching communication and organization," Dr. Hill said, adding that the systemwide readiness structure had not existed, and so had not been tested, before the emergent need around the Ebola planning.
The importance of practice. Practical application and simulation training has proved very educational. In the case of Ebola readiness, staff members have practiced putting on and removing special protective gear and other measures.
"Often we do tabletop exercises, which is disaster training on paper, but this preparation has been hands-on with validation of competency," Dr. Hill said. "It's a shift in our education.
"It's not just a PowerPoint, although it may start there, and that's the big change. And the sustainability will come through incorporating simulation. It's a very different process. Practice it and then simulate it."
St. Luke's continues to work on its Ebola readiness, and Dr. Hill worries about drift, the tendency for competing priorities to divide attention. He also wonders about hospitals and health systems that aren't positioned to tackle readiness.
"I bet everybody has a written plan, but I wonder if there are systems out there that aren't investing in the training," he said. "There's a real cost to be ready, and if you haven't made that investment, how comfortable will you be when you have a real need to implement your plans?
"We have to stay committed to the ongoing competency and improving the model of care we're going to provide."
With staff time and training, equipment, and supplies related to Ebola, St. Luke's may well spend $1 million. And while St. Luke's would not seem a likely locale for the next American Ebola patient, no hospital or health system in the country is out of reach.
"We are only a plane ride away," Dr. Hill observes. "And when you have such a patient, you have to perform flawlessly for the safety of the patient, the people providing the care, and the community."
When will St. Luke's be able to put its Ebola readiness activities on the shelf? Dr. Hill believes that will happen when Ebola cases taper off in Africa.
"The risk is not zero yet."