Salmon River Transit, the Community Transportation Association of Idaho and St. Luke's McCall have teamed up to offer free weekly Connecting U-McCall bus service. The program started Feb. 6.
Connecting U-McCall was created to restore a critical link between the cities of Riggins and McCall, and provides free public transportation to St. Luke's McCall, the public library, pharmacies, the ice skating rink and local thrift stores. The service is free to riders regardless of whether they plan to visit St. Luke's McCall. The pilot program will become a permanent service if sufficient demand is shown.
Riders on the inaugural trip to McCall used the bus service to take care of business such as visiting their dentist and optometrist, having a test performed at the hospital, and even doing a little shopping.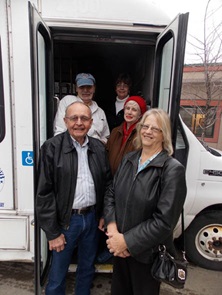 It's been more than two years since Riggins residents had regular bus services to McCall.
"We appreciate having this service available to us," one Riggins resident said. "For those of us without our own transportation, it makes a big difference. Before, we had to catch the Northwest Trailways bus, which meant you had to stay overnight and find a way to get around town."
The weekly bus service is open to anyone who wants to ride, but priority is given to those with medical appointments.
Connecting U-McCall is being financially supported by St. Luke's Community Health Improvement Fund, established to provide financial support to organizations or groups working to improve the health of people in the communities that St. Luke's serves.
Access to care is listed as one of the top community health priorities the fund was developed to address.
"Our objective in assisting with this worthy project is to help people with any health care need they have, or any other purpose, that is available in McCall," St. Luke's spokesman Lyle Nelson said.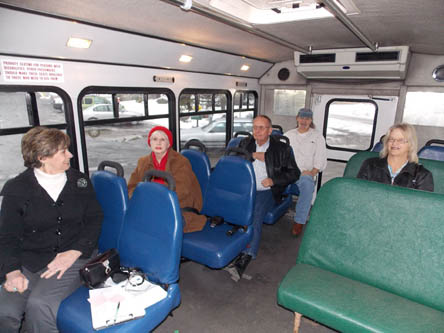 The bus leaves the Riggins Community Center at 8:30 a.m. Fridays and stops to pick up riders at the Connection Café parking lot in New Meadows at 9:30 a.m. It arrives in McCall by 10 a.m. The bus returns to Riggins in the afternoon, with a scheduled arrival at 3:15 p.m.
The bus is wheelchair accessible, and pickup from a rider's residence can be scheduled with 48-hour advance notice.
For more information or to reserve a seat on the bus, call Nightfeather Bogan of Salmon River Transit at (208) 628-2394.