Below are a number of questions and answers from CDC regarding measles and measles vaccine:
What kind of vaccine is given to prevent measles?
The MMR vaccine prevents measles and 2 other viral diseases—mumps and rubella. These 3 vaccines are safe given together. MMR is an attenuated (weakened) live virus vaccine. This means that after injection, the virus grows and causes a harmless infection in the vaccinated person with very few, if any, symptoms. The person's immune system fights the infection caused by these weakened viruses and immunity develops which lasts throughout that person's life.
How effective is MMR vaccine?
More than 95% of the people who receive a single dose of MMR will develop immunity to all 3 viruses. A second vaccine dose gives immunity to almost all of those who did not respond to the first dose.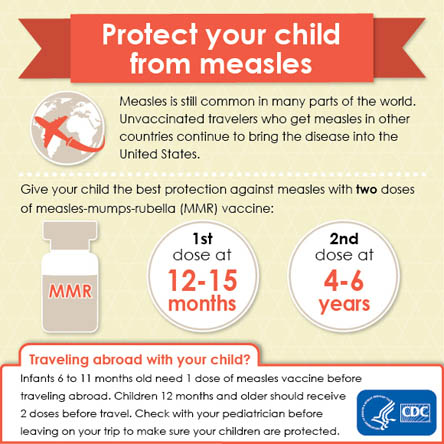 Why is MMR vaccine given after the first birthday?
Most infants born in the United States will receive passive protection against measles, mumps, and rubella in the form of antibodies from their mothers. These antibodies can destroy the vaccine virus if they are present when the vaccine is given and, thus, can cause the vaccine to be ineffective. By 12 months of age, almost all infants have lost this passive protection.
What is the best age to give the second dose of MMR vaccine?
The second dose of MMR can be given at any time, as long as the child is at least 12 months old and it has been at least 28 days since the first dose. However, the second dose is usually administered before the child begins kindergarten or first grade (4-5 years of age) or before entry to middle school (11-12 years of age). The age at which the second dose is required is generally mandated by state school entry requirements.
As an adult, do I need the MMR vaccine?
You do
not
need the MMR vaccine if you
had blood tests that show you are immune to measles, mumps, and rubella
are someone born before 1957
already had two doses of MMR or one dose of MMR plus a second dose of measles vaccine
already had one dose of MMR and are not at high risk of measles exposure
You
should
get the measles vaccine if you are not among the categories listed above, and
are a college student, trade school student, or other student beyond high school
work in a hospital or other medical facility
travel internationally, or are a passenger on a cruise ship
are a woman of childbearing age
Do people who received MMR in the 1960s need to have their dose repeated?
Not necessarily. People who have documentation of receiving LIVE measles vaccine in the 1960s do not need to be revaccinated. People who were vaccinated prior to 1968 with either inactivated (killed) measles vaccine or measles vaccine of unknown type should be revaccinated with at least one dose of live attenuated measles vaccine. This recommendation is intended to protect those who may have received killed measles vaccine, which was available in 1963-1967 and was not effective.
Why are people born before 1957 exempt from receiving MMR vaccine?
People born before 1957 lived through several years of epidemic measles before the first measles vaccine was licensed. As a result, these people are very likely to have had the measles disease. Surveys suggest that 95% to 98% of those born before 1957 are immune to measles. Note: The "1957 rule" applies only to measles and mumps—it does NOT apply to rubella.
What should I do if I'm unsure whether I'm immune to measles?
If you're unsure whether you're immune to measles, you should first try to find your vaccination records or documentation of measles immunity. If you do not have written documentation of measles immunity, you should get vaccinated with measles-mumps-rubella (MMR) vaccine. Another option is to have a doctor test your blood to determine whether you're immune, but this option is likely to cost more and will take two doctor's visits. There is no harm in getting another dose of MMR vaccine if you may already be immune to measles (or mumps or rubella).
Contact:
St. Luke's Travel Medicine and Immunization Clinic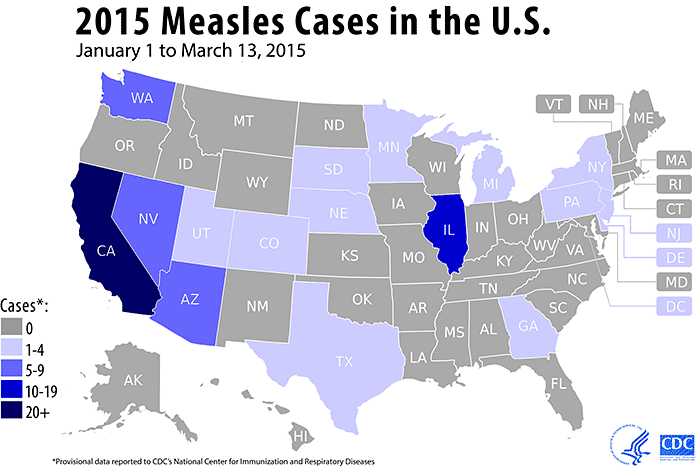 A state-by-state breakdown of the ongoing measles outbreak. Courtesy of the Centers for Disease Control and Prevention.
According to the Centers for Disease Control (CDC), "measles is a highly contagious, acute viral illness. It begins with a prodrome of fever, cough, coryza (runny nose), conjunctivitis (pink eye), lasting 2-4 days prior to rash onset. Measles can cause severe health complications, including pneumonia, encephalitis, and death. Measles is transmitted by contact with an infected person through coughing and sneezing; infected people are contagious from 4 days before their rash starts through 4 days afterwards. After an infected person leaves a location, the virus remains viable for up to 2 hours on surfaces and in the air."
With the recent outbreak of measles that has been linked to Disneyland in California, people are scrambling to determine if they are protected, and whether or not they need to be immunized for measles.
From Jan. 1 through March 13, 176 people from 17 states and the District of Columbia were reported to have measles, according to the CDC. Fortunately, there still have not been any reported cases in Idaho. However, there have been cases in neighboring states Washington, Nevada and Utah.
The majority of people who got measles were not vaccinated, according to the CDC.
On Jan. 23, the CDC released a heath advisory to provide guidance for healthcare providers to ensure all patients are up to date with MMR and other vaccines.