Post Graduate Year One (PGY1) - Pharmacy Residency Program
The ASHP Accredited PGY1 Program at St. Luke's Boise is a 12-month program that develops expertise and competency in providing clinical pharmaceutical care to a variety of different patient types. Residents train under the guidance of skilled preceptors in various specialties to grow significantly in their clinical skills and in the areas of pharmacy operations, teaching, medication use policy and evaluation.

The residency experience encompasses core area practice, elective experiences and longitudinal participation in administration, operational staffing, and teaching. Flexibility built into our program allows each resident to tailor a program to fit their individual needs.

Clinical rotations are primarily based both out of our 400+ bed inpatient facility located in downtown Boise. Rotations are typically 4-to-6 weeks in length.
Core Rotation Experiences
Internal medicine
Critical care
Pediatrics
Cardiology
Infectious disease


Elective Rotation Experiences
Ambulatory care
Oncology
Emergency medicine
Rural medicine
Infusion pharmacy
Informatics
Other electives available upon request


Longitudinal Rotation Experiences
Medication safety
Pharmacy administration
Teaching certificate
Central and decentralized pharmacy staffing


Conferences
ISHP Fall Meeting
ASHP Midyear Clinical Meeting
Mountain States Conference


Program Details
Start date: late June or early July
Estimated stipend: $51,000


Staffing Requirements
Currently PGY1 residents are required to staff one shift each two-week pay period. This shift occurs primarily on Fridays, which allows for a slower pace with the maximum number of staff on hand to help mentor the resident. Our residents will transition to staffing on weekends in clinical areas during the second half of the year.


Projects & Research
Each resident is expected to complete at least two large projects during their PGY1 year. The first is typically an MUE that will be presented as a poster at the ISHP Fall Conference in Sun Valley, Idaho at the end of September. The second is their major project which will be presented at a regional spring conference (e.g., in years past our residents have presented their major projects at the Mountain States Pharmacy Conference in Utah).


Additional Research Project Opportunities
Residents also have the option of presenting a poster at the ASHP Midyear Meeting held in December or at any number of other conferences that occur during the year (e.g., HOPA, ISHP Spring Conference, etc.).


Teaching Certificate & Residency Forum
St. Luke's has partnered with the other pharmacy residency programs across the region to bring residents together to collaborate as they work to complete the requirements to obtain a teaching certificate from Idaho State University College of Pharmacy. In completing these requirements, St. Luke's residents will give a clinical lecture to the pharmacy students at ISU, be featured presenters at the ISHP conferences, lead case review classes at ISU during the year, and precept a student.


Post-Residency Directions
Typically about half of our PGY1 residents accept a full-time clinical pharmacist position with either St. Luke's or another facility at the completion of their PGY1 program year. The other 50% of residents have gone onto a PGY2 program, typically our PGY2 Oncology Specialty Residency at St. Luke's Cancer Institute. St. Luke's strives to keep each of our PGY1 residents as permanent clinical staff pharmacists at the completion of their PGY1 year, however, this is always dependent on the availability of open positions.
Application Instructions and Process
Submit an application via PhORCAS by first Friday in January; application to include:

Letter of intent
Three letters of reference
Current CV
Pharmacy transcripts

Applicants must also complete a St. Luke's online application by first Friday in January for Pharmacy Resident (PGY1) - Boise
On-site interview in February
Contact Information
Katie Vuong, Pharm.D., BCPS
Clinical Pharmacy Director/Residency Program Director
Phone: (208) 381-2476
Email: vuongk@slhs.org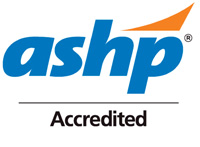 Accreditation
The PGY1 Pharmacy Residency conducted by St. Luke's Health System, Boise, ID is accredited by ASHP.