The Light of Philanthropy Award is given annually to individuals who reflect the spirit and philanthropic leadership of the late Ralph J. Comstock, Jr., demonstrating remarkable qualities in leadership, philanthropy, and humanitarianism benefiting St. Luke's and other worthy community charities.
Each year, the award recipients are honored at the St. Luke's Ball.
For more information and to purchase tickets, please contact the St. Luke's Health Foundation at (208) 381-2123 or by email.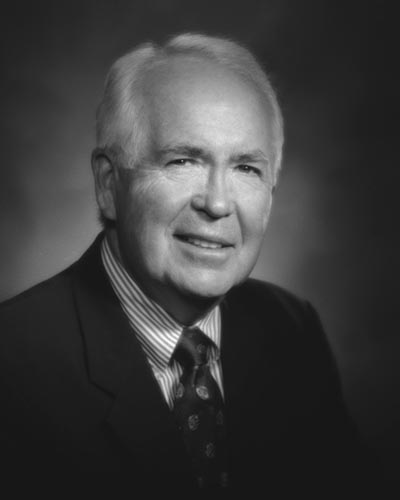 Our 2017 Light of Philanthropy Award Honoree
Herb Patriarche
Herb Patriarche was born and raised in East Lansing, Michigan. A third generation Spartan, Herb attended Michigan State University where he studied engineering and business. It was at a swim meet at the university that he met his best friend and future wife, Judy. The two were married in 1965 and started their professional lives and family in Chicago. They are the proud parents of three children—Julie, Kindra and John—and the biggest cheerleaders for their eight grandchildren.
Herb joined the accounting firm of Arthur Andersen in 1964 and dedicated himself to a career that spanned 35 years. Highlights include serving as managing partner of the Boise office and the Northern California offices including San Francisco, Oakland, San Jose, and Sacramento, and as the audit practice director for the Pacific Northwest. Arthur Andersen placed a strong emphasis on philanthropy with an expectation that partners give back. Throughout his career, Herb dedicated his time and talent to organizations such as the Mental Health Association of Greater Chicago, Central DuPage Hospital, the Chamber of Commerce in Boise and San Francisco, Boise State University, Junior Achievement, San Francisco Ballet and Crane Creek Country Club.
Following his retirement in 1998, Herb joined the St. Luke's Health Foundation Board. After two active terms as treasurer of the board and leader of its finance committee, Herb was elected chairman in 2009. Under his leadership, the board developed its first philanthropic strategic plan—a plan that was adopted by the Medical Center Board and has led to philanthropic and participation goals for all St. Luke's boards.
During Herb's three-year chairmanship of the Foundation Board, community support totaled $12.1 million, an increase of 37% over the previous three years. Herb's passion for philanthropy has guided countless conversations by the Medical Center Board and staff about how to incorporate charitable giving into the funding of capital projects. We have Herb to thank for the culture of philanthropy that exists at St. Luke's today.
About Ralph J. Comstock, Jr.
Ralph J. Comstock, Jr. was a philanthropist, leader, and humanitarian. Born in 1917 in Rexburg, he grew up in Idaho Falls, Nampa, and Pocatello. Ralph graduated from the University of Idaho Southern Branch (now Idaho State University) and then from the University of Utah, where he earned a bachelor's degree in Business Administration.
While living in Utah, Ralph met Bernice (Bee) Broomfield, who became his wife of more than 50 years. Together, Ralph and Bee raised three children, Ralph, Robert, and Christine.
Following a tour of service in the U.S. Army Medical Corps in World War II, Ralph entered the banking industry where he rose to the highest executive office with First Security Bank of Idaho before retiring in 1984.
Ralph was the catalyst for a number of Idaho's finest civic accomplishments. His most notable philanthropic endeavors were achieved in his service to Boise's Morrison Center for the Performing Arts, St. Luke's Mountain States Tumor Institute, and St. Luke's Boise Medical Center.
A sportsman who enjoyed hunting, fishing, and skiing, Ralph's heart was as big as the great outdoors. He was a bold man with big ideas, great passion, and tremendous enthusiasm. He died in 1995 after an exemplary career of professional and community service. St. Luke's is proud to present the annual Light of Philanthropy Award in his honor.
Past Recipients
2016: Harry Bettis, Laura Bettis, and Janelle Wise
2015: Bob Hoover
2014: Susan Smith
2013: James A. Kissler
2012: Marilyn Beck
2011: A.J. and Susie Balukoff
2010: Arthur F. "Skip" Oppenheimer
2009: Marilyn Shuler
2008: Anna Margaret Jones
2007: Jim Everett
2006: Judge Stephen Trott
2005: Carolyn Terteling-Payne
2004: Alice Hennessey
2003: Jim and Karin Nelson
2002: Harold Thomas
2001: A. Dale Dunn
2000: Robert V. Hansberger
1999: John and Dee Fery
1998: Velma V. Morrison
1997: J.R. and Esther Simplot
1996: Ralph J. Comstock, Jr. and Larry Kissler