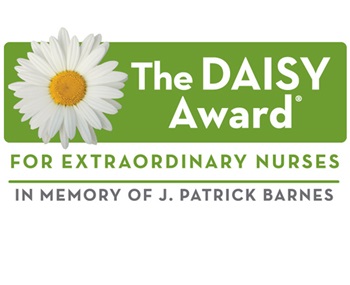 Sometimes the personal care from your nurse can transform your experience from a patient being treated to a person being cared for. The DAISY Award® honorees personify St. Luke's commitment to exceptional patient experiences.
These nurses consistently demonstrate excellence through their clinical expertise and extraordinary, compassionate care. They are recognized as outstanding role models in our nursing community.
Honorees are recognized in a public ceremony in his or her unit and receive a certificate, a DAISY award pin, and a hand-carved stone sculpture titled A Healer's Touch.
We encourage you to submit a DAISY award nomination for any nurse who made your experience at St. Luke's extraordinary!
What is the DAISY Award?
The DAISY Award is an international program that rewards and celebrates the extraordinary clinical skill and compassionate care given by nurses every day.
St. Luke's is proud to be a DAISY Award partner, recognizing our nurses with the special honor every quarter.
The DAISY Foundation was established in 1999 by the family of J. Patrick Barnes, who died at the age of 33 of complications of the auto-immune disease idiopathic thrombocytopenic purpura (ITP).
During Pat's eight weeks in the hospital, the exceptional care his nurses provided to him as well as his family left a huge impression. One of the goals of their foundation is to recognize extraordinary nurses everywhere who make enormous impacts in the lives of their patients and their families.