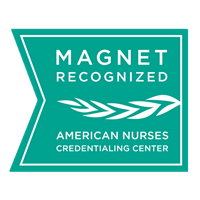 Magnet Designation - The Gold Standard of Nursing Excellence
St. Luke's achieved its fifth consecutive Magnet designation in 2020 from the American Nurses Credentialing Center (ANCC). Our Boise and Meridian hospitals and urgent cares, ambulatory clinics, surgery centers, cancer centers, and inpatient rehabilitation unit have been designated as Magnet since 2001!
Hospitals that achieve Magnet status not only have proven themselves as quality patient care providers, but they are also able to attract and retain skilled and experienced nurses and allied clinical professionals. All staff—both clinical and non-clinical—benefit from Magnet designation, because collectively each employee is recognized as being part of a safe, caring, and quality organization.
Magnet hospitals have a higher rate of nursing satisfaction, lower turnover, and provide an environment for staff nurse involvement in evidence-based practice and shared governance in support of optimal patient outcomes. This means St. Luke's patients and their families receive award-winning care that is compassionate, patient-centered, and always reaching for a higher standard.
Magnet Culture
St. Luke's formal Magnet designation applies specifically to the locations listed above, and all of the programs and opportunities associated with Magnet are available throughout St. Luke's. Magnet culture is expected and supported at all St. Luke's locations, every day.
The Magnet program provides a framework to recognize the highest level of professional nursing practice and commitment to excellence in improving quality of care. It helps us strengthen leadership, professional development, the quality of nursing and patient outcomes, and the provision of inclusive, culturally and socially sensitive care for our diverse populations. Areas of focus include: