Building on Our Promise
Building on our promise — and our mission to improve the health of the communities we serve — St. Luke's is starting an exciting new phase to upgrade and enhance our Boise Medical Center. Following the completion of the Idaho Elks Children's Pavilion in 2019 and hospital ancillary facilities in 2021, including a new parking garage for patients and a utility plant to improve facility operations, St. Luke's will soon launch efforts to construct a new hospital tower and adjoining medical office plaza. These new buildings, all part of the city of Boise-approved master plan, will directly improve access to care for patients, while increasing St. Luke's ability to care for the growing number of patients in our communities.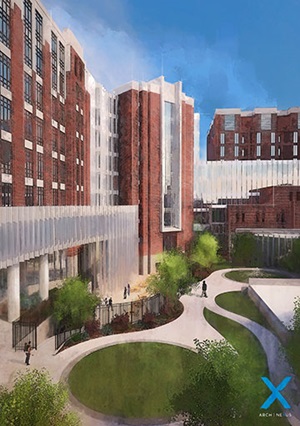 New Hospital Tower
The new tower, located just north of the existing hospital along Jefferson Street between Ave. B and 1st Street, will be critical in enabling St. Luke's to meet current and future health care needs of the communities we serve. The facility is expected to be two stories below ground and nine stories above ground — one story shorter than the existing St. Luke's hospital tower.
Key facts and figures about the new hospital tower include:
860,000 square feet of patient-centered care.
80 additional patient beds, eventually increasing the hospital's capacity to more than 500 beds.
Seven new operating rooms, for a total of 28 at the Boise Medical Center.
Two neurointerventional biplanes for innovative diagnosis of neurological disorders.
New Medical Office Plaza
The new medical office plaza will integrate into the new tower and connect to the new patient parking garage that was completed in 2021 via a skybridge over 1st Street. The new MOP will consolidate the Idaho Heart Clinic and Jefferson Medical Office Plaza, creating more access and a streamlined experience for patients.
180,000 square feet.
Multiple clinics and providers under one roof to care for patients.
Seamless, integrated access to care for patients and families.
Preparation
Following established approval processes with the appropriate government entities and neighbors, we will break ground on a reconfigured ambulance entrance to the hospital's emergency department on Jefferson Street. Work on this new entrance is expected to start in late summer/early fall 2023. This will ensure emergency vehicles have access while the new tower and medical office plaza are under construction. Construction on the new tower and medical office plaza is expected to begin in 2024.*
*Dates and figures subject to change.
Timeline
2023 – Expected to break ground on reconfigured emergency department ambulance entrance near Ave. B and Jefferson Street.*
2024 – Expected to begin construction on new hospital tower and medical office plaza.*
See the entire Boise campus development timeline on the St. Luke's Boise Development Plan page.
*Dates and figures subject to change.
Roadway work near St. Luke's Boise Campus
As of fall 2023, several roadway projects, under the supervision of the Ada County Highway District, are in progress near St. Luke's Boise Medical Center.
Below are resources related to roadway projects with impacts near St. Luke's Boise Medical Center.
If you have a question related to the St. Luke's downtown campus development project, email [email protected]
All Boise Development Plans