Children are special, and so are their healthcare needs. They need age-appropriate therapies to help them cope with illness or hospitalization, opportunities to express themselves when their world is changing, and an environment of positivity and fun that lets them just be kids.
That's the goal of St. Luke's new Idaho Elks Children's Pavilion, which is going up across the street from St. Luke's in Boise, home to Idaho's only children's hospital. For safe, direct access, it will connect via sky bridge over Avenue B. But the Pavilion is more than a building. It's what we're putting inside that really matters.
Designed to meet the needs of kids, their families, and the people who care for them, the state-of-the-art facility will more than double our clinical space and improve vital services that keep care close to home. It will bring most of our pediatric specialists and services under one roof, allowing us to provide care more efficiently and easing the burden on parents and kids who will now be able to see several providers in one location in one day.
And that's not all. Whether it's the Family Resource Center that lets moms and dads stay connected to life outside medical buildings, the Sibling Clubhouse to keep brothers and sisters entertained during long appointments, or the demonstration kitchen where families learn to cook for children with special dietary needs, we're building on our promise to take the best care of our young patients—and the whole family, too.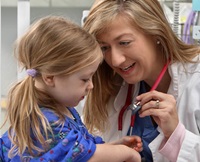 You Can Make a Difference
To make the Idaho Elks Children's Pavilion a reality, St. Luke's must raise $20 million of the $42 million needed to build, equip, and furnish the new facility. Thanks to thousands of community donors, including St. Luke's employees, physicians, and board members, we've already raised $15 million and are well on our way. Now, we need you.
Join us in supporting this special place – one that will touch the lives of so many children and families for decades to come. Please consider giving the most meaningful gift you can by making an online donation today or contacting St. Luke's Health Foundation.